At the end of February I took an unexpected last minute trip to the Philippines. I ended up staying for one month, then two weeks in Japan. For six weeks I was unprepared, had no set plans, and basically planned a food journey day by day. The initial reason for the unplanned trip was unfortunately a family emergency in Manila. I spent some time with family and to make the best out of the situation, I decided to stay for a while and that's the reason why I have not blogged in weeks. Sometimes you just have to embrace what life gives you and go with the flow.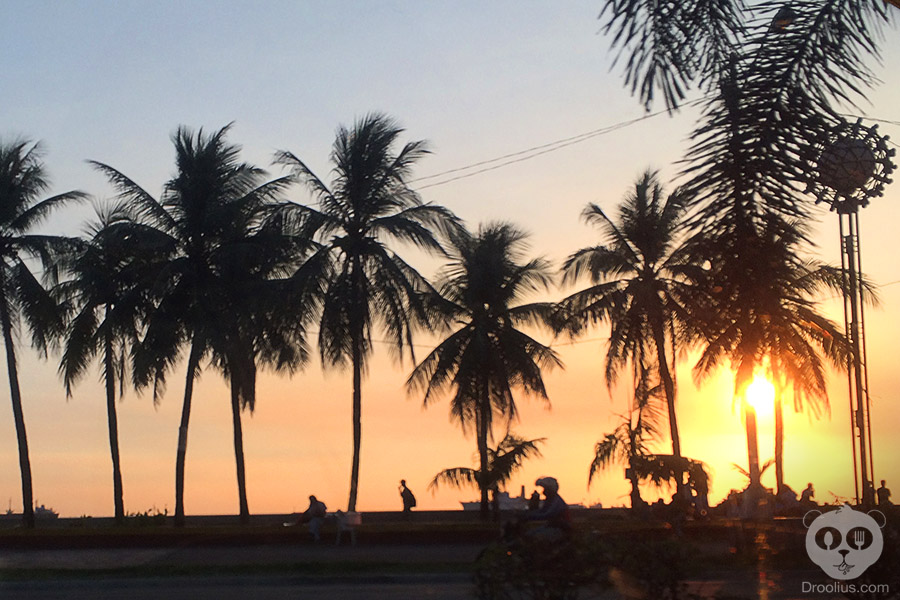 (click image to enlarge)
Since I left on such short notice, I pretty much had one day to plan before booking the flight with my family. I drove down to Miami Beach for the South Beach Wine & Food Festival (SOBEWFF coverage still in the works) to do some event photography work, then drove straight back to Orlando after, and flew out a few hours later. So no time to prepare, just pack a suitcase of clothes and I was on the plane for about 24 hours total travel time, with stops in JFK New York, Narita (Tokyo) Japan, then finally arriving in Manila, Philippines.
This was my third trip to the Philippines and the first as a food blogger. After some family time, the food journey began and I was able to keep posting through social media channels with my daily food explorations. Due to the slow internet in the Philippines, trying to work on the website and wordpress became more and more frustrating after two weeks. So I decided to wait until I got back to the U.S. to start blogging again. I've been back for a little over a week now and going through all of the food and travel photos. Here's a little recap of my food adventures in the Philippines and Japan. Eventually I will be sharing more in-depth restaurant features and travel guides so you all can find these great places to eat.
The Philippines
(click image to enlarge)
I spent my first week with family, eating home cooked Filipino dishes, with lots of fish and seafood dishes in my mom's hometown of Navotas. Breakfast was always fresh Pan de Sal (locally made bread rolls), eggs, and rice. Lunch and dinner was lots of Filipino dishes with seafood, vegetables, and various meats at times. My first week was mainly eating at home but I did experience the local street food scene one day.
Street food vendors line the streets, selling grilled BBQ, fried chicken, fried quail eggs, and more fried food. This probably explains my obsession with fried foods, it's in my blood. We decided to stick with grilled meats that day, like those pictured above. Marinated pork BBQ, lung, and isaw (intestines) on a stick. Some of it may sound exotic and intimidating, but everything was marinated with sweet and spiced marinades, then topped off with a spicy vinegar sauce to balance everything out. Filipinos know how to make BBQ on the stick taste good and everything we ate was tender and juicy.
(click image to enlarge)
Filipinos are great cooks at home and there many good restaurants in Manila to eat at. Filipinos LOVE to eat and we are a food culture. The restaurant and dining scene in Manila has really elevated itself and there are so many new ones opening up and many that are sustaining with not only Filipino cuisine, but international cuisine. Chefs have traveled and cooked around the world and back, eventually setting up their own restaurants in the Philippines. My cousin took us to Aracama (dishes pictured above), a restaurant and cocktail bar highlighting traditional Filipino cuisine with a few modern twists. Shareable plates of seafood, local indigenous vegetables, pork, beef, and a dessert was our feast that evening. There's some creativity and international influence from the chef and it works. Aracama is in Bonifacio Global City, a district in Metro Manila.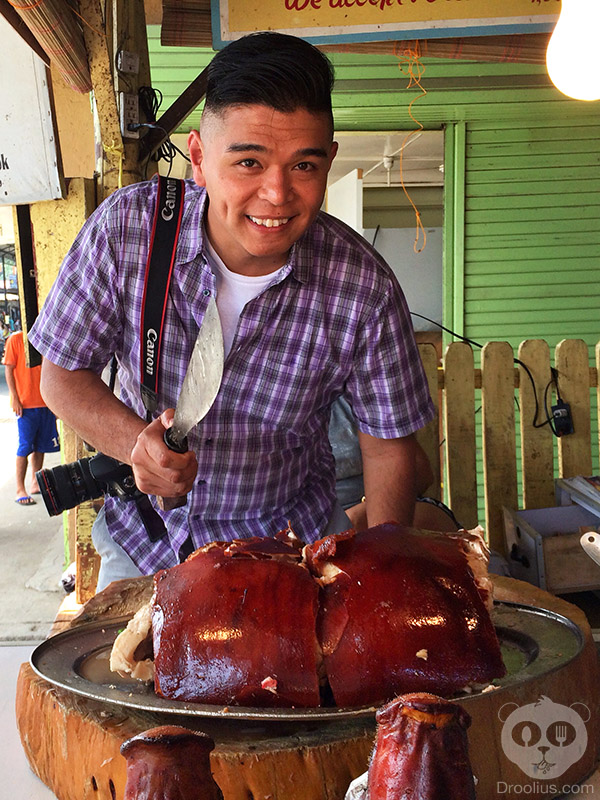 (click image to enlarge)
After 2 weeks in Manila, I was fortunate to travel to the island of Cebu to attend a close friend's wedding. After a long weekend of celebrating and eating in Bantayan Island, Cebu, I was able to have a day tour of Cebu's finest and best lechon. It may be the best roasted pig in the world! My chef friend J.R. took me to what he considers "lechon heaven" at the Carcar Market, about an hour outside of Cebu city. This market is known for it's row of lechon vendors, who all ask you to sample, for free, their insanely tasty pork meat and crispy skin. "Best. Lechon. Ever." is what I thought as we sampled multiple lechon stalls. The photo above is of me and the knife that is used to chop up the lechon we chose, based on the flavor of the meat alone and we ordered about 1.5 kilos of rib meat. That's a little over 3 pounds of deliciousness and we ate it all! The lechon around here is marinated on the inside of the pig and whole roasted, making it super flavorful and moist. No sauce needed, just rice and maybe a touch of vinegar to cut through the richness. It was the most flavorful and seasoned lechon I've ever had. We drove back to Cebu City for some sightseeing and restaurant hopping. We just made it in time for my flight back to Manila, but I wished there was more time to taste more lechon in Cebu City.
(click image to enlarge)
In Manila, I discovered there was a Ramen craze going on and I had no idea how popular or good it was. From local Filipino chefs and cooks to Japanese ramen restaurant chains, they were serving some of the best bowls of Tonkotsu Ramen I have ever tasted. Easily there are 10+ popular Ramen restaurants to explore and I only got to experience four of them. I will be sharing my favorite bowl of ramen from this trip in another post, but if you're looking to try some, check out Ramen Bar, Ramen Nagi, Ramen Yushoken all in Manila and Nomama Artisanal Ramen in Quezon City. Luckily my cousin Joyce loves ramen like I do and she was not hesitant on helping me on my quest for Ramen. This sparked my next Ramen quest in Japan (more below).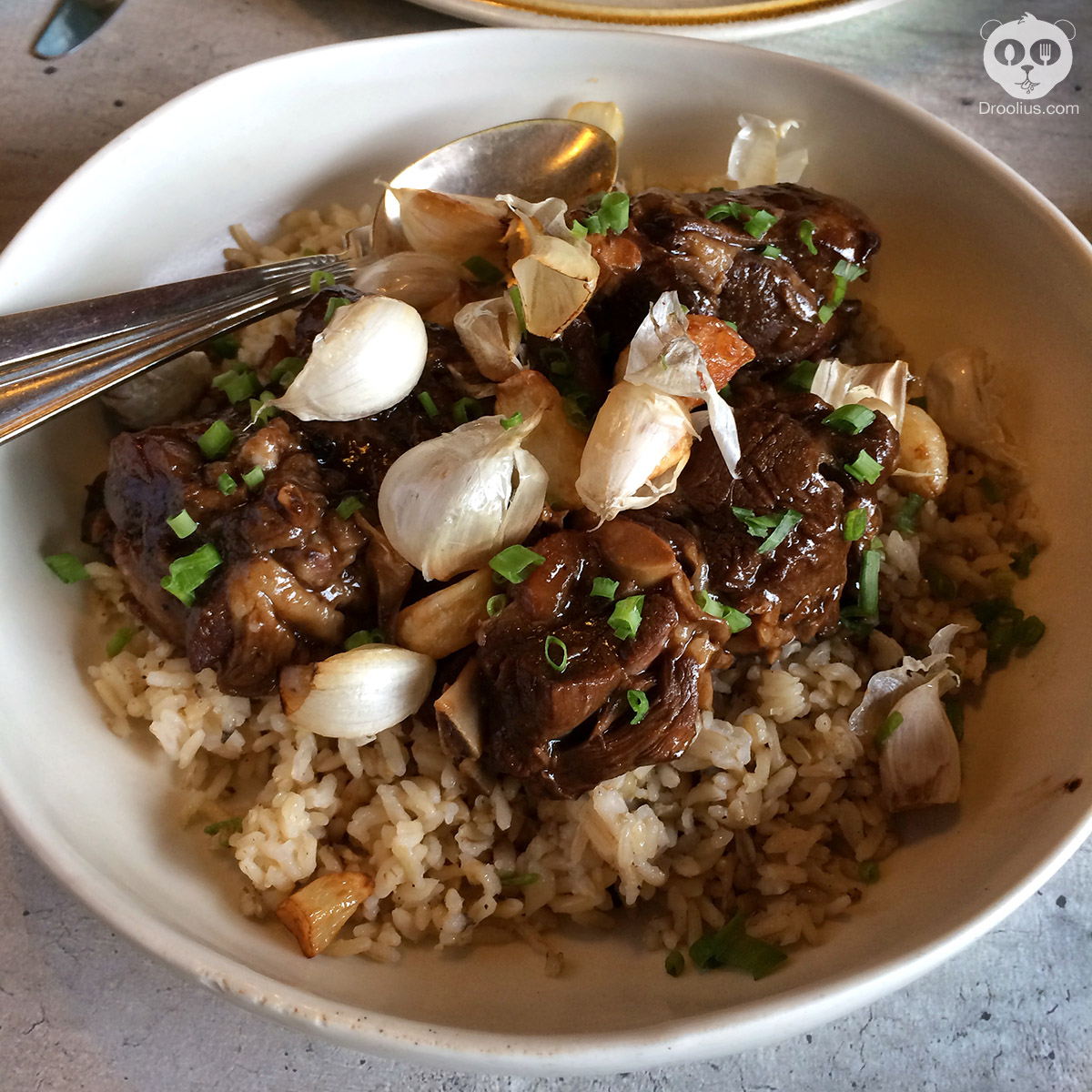 (click image to enlarge)
Lamb Adobo with Garlic Brown Rice @ Grace Park
I went on a food tour the day before I left Manila with my new friend and food guide, Dee Jae. We went to Grace Park at Rockwell Center in Makati for this beef belly dish, but they ran out already by the time we got there. That was ok because one of the specials of the day was the Lamb Adobo with Garlic Brown Rice. This dish was one of the best I ate on this trip. If you know Filipino cuisine, Adobo is a staple dish and the fact they braised lamb into a form of Adobo was truly wonderful. This is what I love seeing in the Philippines and its dining scene, taking a classic dish like Adobo and elevating it with lamb, good ingredients and cooking technique. Grace Park coins itself as a farm-to-table Italian restaurant, but the menu has some great farm-to-table Filipino dishes as well.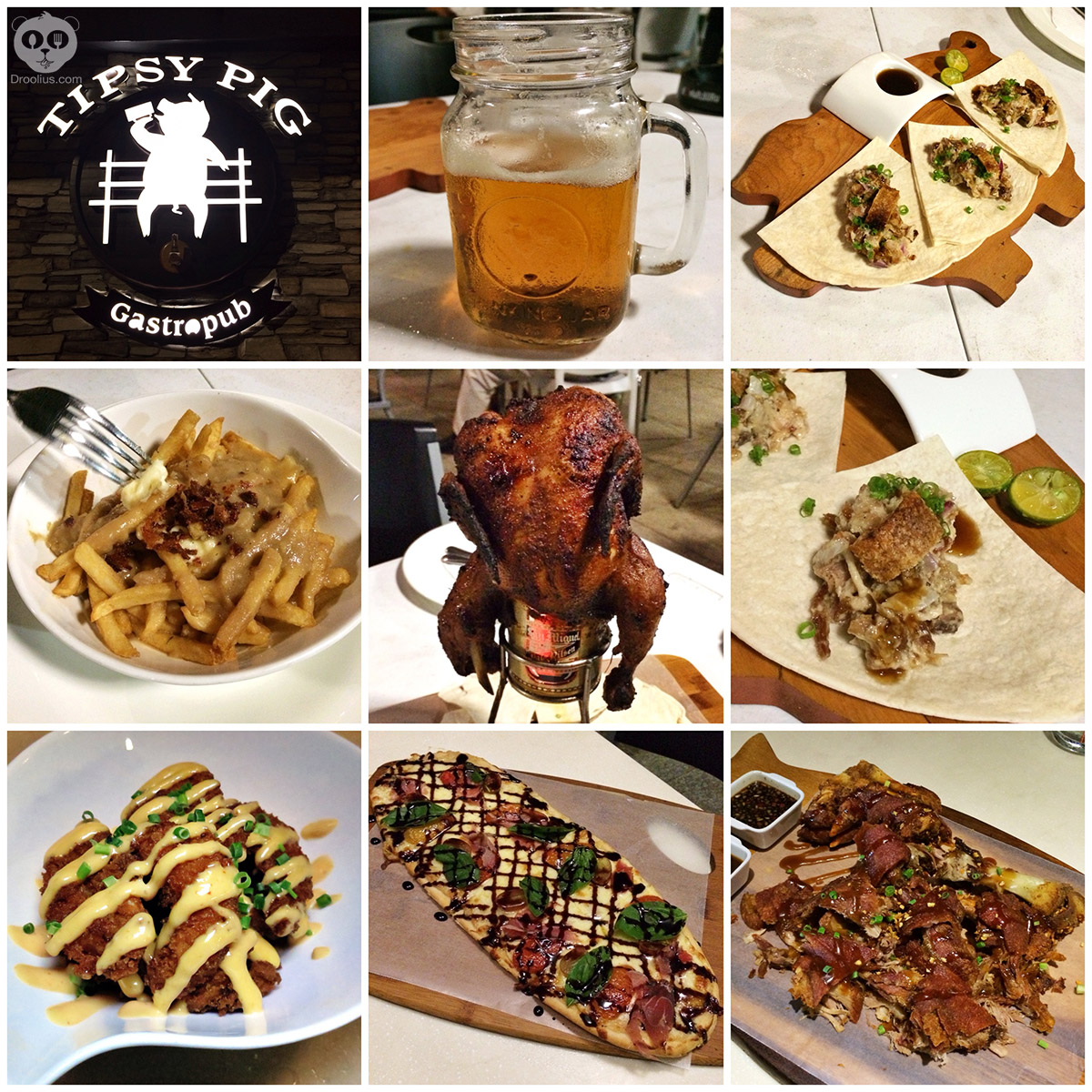 (click image to enlarge)
My very last meal in Manila was at the Tipsy Pig Gastropub. A gastropub in Manila back seven years ago when I last visited was probably unheard of and now this is yet another restaurant taking Filipino food and elevating it. This was actually my second time dining here and the only restaurant I ate at twice while visiting Manila. They have mixed drinks, Signature Flavored Brews like their Salted Caramel Flavored Beer, and a wide selection of good pub food with Filipino cuisine still in mind. Some of my favorites were the Belly Good Sisig Tacos (crispy pork belly made to a local Sisig), Beer Can Chicken with San Miguel beer, and Tipsy's Boneless Crispy Pata (deep fried pig trotters and knuckles). Basically really good food to enjoy with your beer or mixed drinks. The Tipsy Pig Gastropub is currently one of the popular spots in town to hang out at so I recommend making reservations. It's located at Capitol Commons, in Pasig, and the restaurant itself has a great interior and exterior to look at.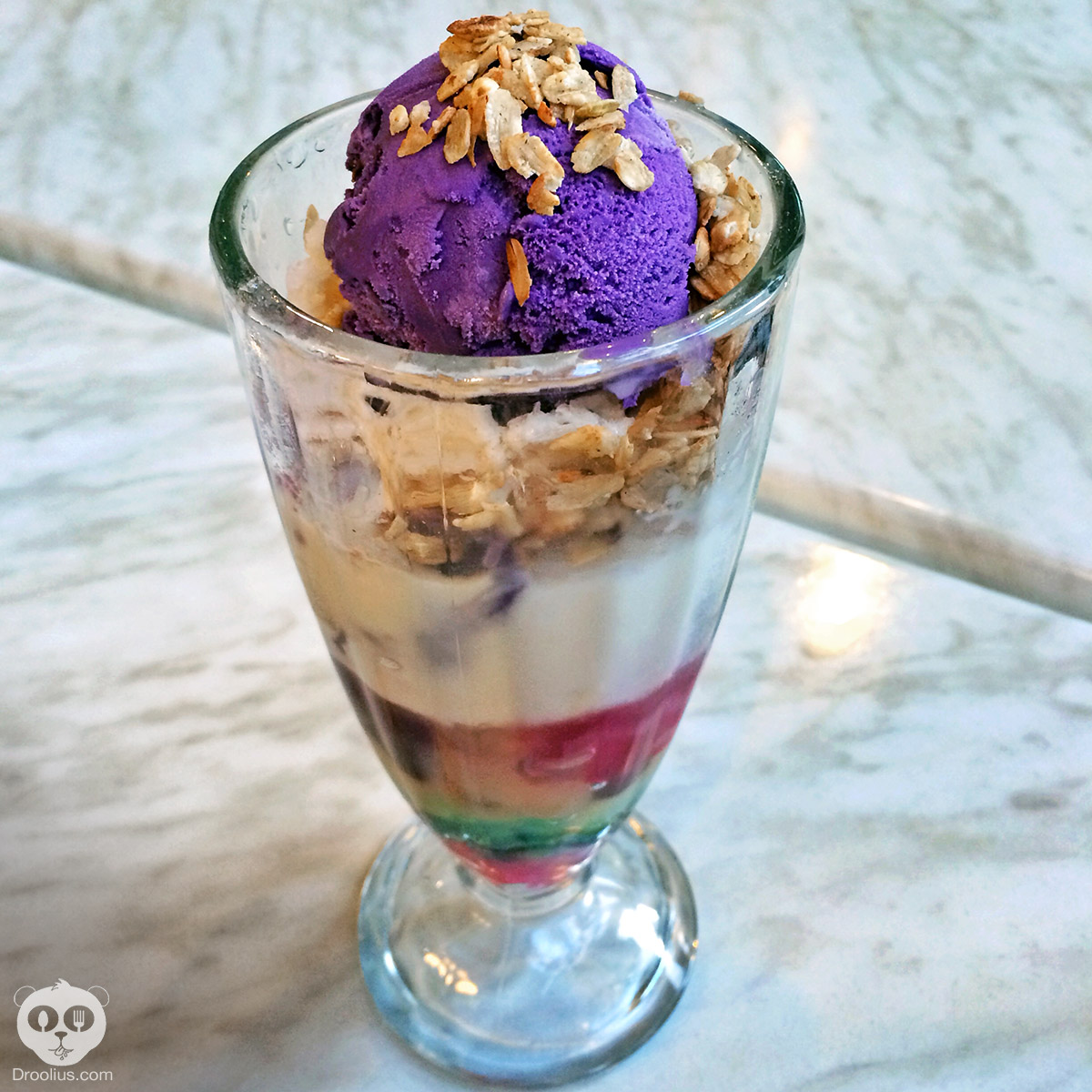 (click image to enlarge)
Halo Halo at Milky Way inside Greenhills Shopping Center in Manila.
This is Halo Halo, the dessert of the Philippines. Halo Halo literally means "mix mix" and I grew up eating it (in Florida though). It's a layered dessert of shaved ice, various kinds of sweet beans, jello and fruits, and topped with evaporated milk, ice cream, and sometimes leche flan. You mix it all up and enjoy. Milky Way, inside Greenhills Shopping Center in Manila, makes a good one. You can go all over the Philippines and find this traditional dessert that keeps you cool in the hot weather.
My time in the Philippines was spent visiting family and friends, checking out the nightlife, and discovering food I never thought would exist. The country is such a melting pot of different cultures and cuisine, all influencing each other and giving a reason for people to visit. The Philippines as a whole has so much to offer as far as tourism with it's beautiful beaches and islands, the many scenic destinations, and the regional cuisine. I highly recommend visiting the Philippines for a travel adventure. I'll be writing more about food and travel in the Philippines so stay tuned. I hope to visit again, there's just too much to enjoy and experience.
Japan
(click image to enlarge)
This is my third trip to Japan, the first back in 2000 and the second in 2004. So it's been about 10 years since I've visited and I might as well make a stop if I'm already in Asia. If your flight from the Philippines already stops in Japan as a part of your route, plan a stop over. I flew Delta and it already routed me into NRT Tokyo so I made a two week stay out of it. The end of March to the beginning of April is one of the best times to visit Japan. It's the time of Sakura, when cherry blossoms bloom and the trees are filled with white pinkish flowers. It's a beautiful time to visit and also enjoy Hanami, the Japanese traditional custom of enjoying flowers, with eating and drinking at the park. No one celebrates Sakura like Japan and when they are in bloom, everyone is outdoors enjoying the sights and taking photos. Even at night the celebration continues of Hanami and people are set up under Sakura trees enjoying themselves.
One of the first things I did in Tokyo was go to the Disney Sea theme park. It's the best Disney park I've been to and now my favorite, just because of the look and feel of everything, plus they had great food inside of the park. I was able to travel outside of Tokyo to Kyoto with some friends from Orlando and spent a day in Osaka exploring food with some local friends. Sakura had not fully bloomed yet in Kyoto, but we still enjoyed the shrines, the food, and tourist destinations like Arashiyama Monkey Park. In Osaka, my friends took me all over and we had about 10 food stops that day before I took the last Shinkansen bullet train that evening back to Tokyo. Osaka was actually the first place I had ramen at in Japan and it kicked off my quest for Ramen, which started in Manila.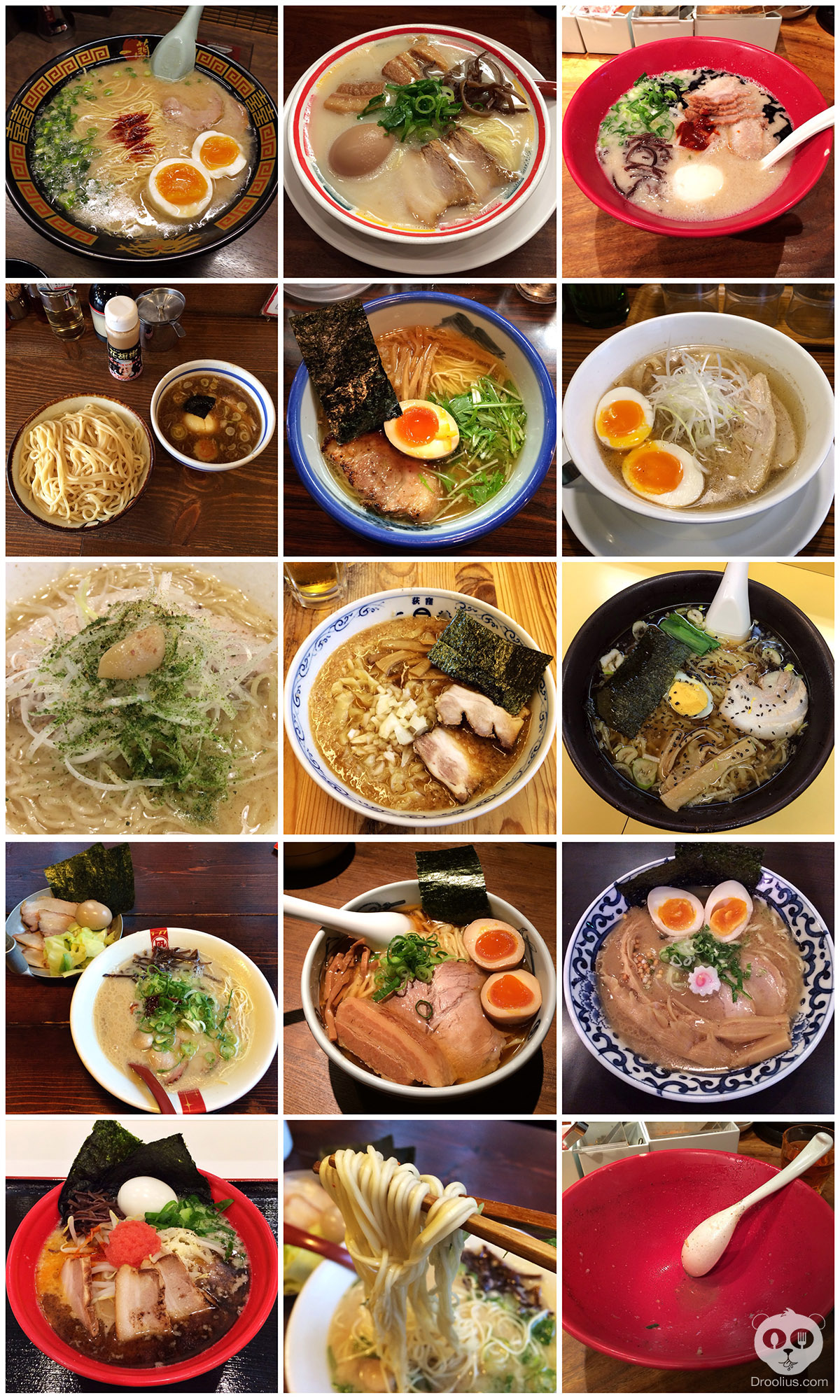 (click image to enlarge)
Ramen in Japan is a specialty, with origins from different regions and cities. My go to Ramen is Tonkotsu Ramen which I have written about a few times. I was obsessed with finding my favorite Tonkotsu Ramen, but after doing research while in Japan, there were too many other styles of Ramen I had to try. In one day, I ate four bowls of ramen, all different styles while visiting Setagaya for Ivan Ramen, then Ogikubo which is said to be the birthplace of ramen in Tokyo. I also had a visit at Tokyo Ramen Street, a part of Tokyo train station dedicated to Ramen restaurants. Out of two weeks in Japan, I spent eight days in Tokyo alone seeking out Ramen and ate 12 bowls, with a total of 13 bowls including one in Osaka. I will be writing about each restaurant in future posts, but here's the list of Ramen spots I visited and enjoyed:
• Ichiran Ramen in Osaka for Tonkotsu Hakata style Ramen
• Kyusyu Jangara in Harajuku, Tokyo for Tonkotsu Ramen
• Ippudo in Roppongi, Tokyo for Akamaru Modern Tonkotsu Ramen
• Taishoken in Higashi Ikebukuro, Tokyo for Tsukemen (dipping noodles) was invented here.
• AFURI in Ebisu, Tokyo for Yuzu Shio Ramen
• Ivan Ramen in Setagaya, Tokyo for "Shio Everything Ramen "
• Ivan Ramen in Setagaya, Tokyo for "Cha-shu Roasted Garlic Men" Mazemen
• Futaba in Ogikubo, Tokyo for Backfat Niboshi Ramen
• Ju-Hachi Ban in Ogikubo, Tokyo for Shoyu Ramen (trying to find more about restaurant name)
• Butao Nagi in Shibuya, Tokyo for Tonkotsu Ramen
• Menya Musashi in Shinjuku, Tokyo for House Special Ramen
• Ikaruga at Tokyo Ramen Street inside Tokyo Station for Tonkotsu Ramen
• Ippudo Noodle Express at Tokyo Skytree food court for Tonkotsu Ramen
More about each Ramen restaurant and experience coming soon. After this trip, eating Ramen will never be the same outside of Japan!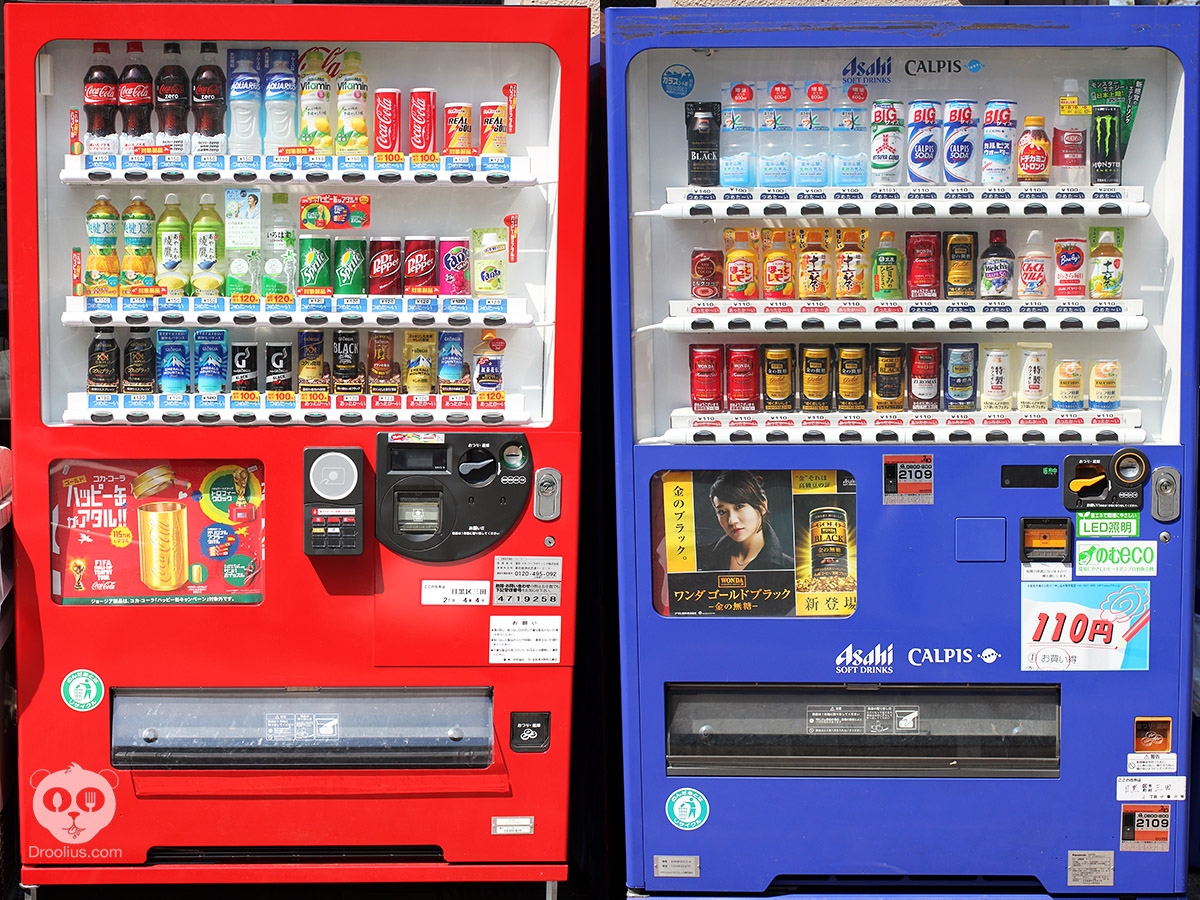 (click image to enlarge)
Besides traveling all over for Ramen, my daily stop was for drinks at Japanese vending machines. Almost every street corner, train station, and basically every street has these vending machines that vend cold and hot (during winter season) drinks. Bottled water, tea, milk tea, coffee, milk coffee, sodas, and more are sold from these. The convenient thing is that you can use most of your coins (especially when they start piling up in your pocket) and some even take cards used for trains for payment. My last amount of coins and the remaining balance on my train card was used at the airport to buy drinks before my flight home. I'm addicted to these vending machines on every trip to Japan.
(click image to enlarge)
I'm not too fond of super sweet desserts, but a donut is always a must and so are many desserts in Japan. Anything considered a sweet treat in Japan is always balanced and has the perfect amount of sweetness for me. Nothing is ever overly sweet and that's what I enjoy. Here's a run down from the photo above: Donuts from Krispy Kreme featured seasonal Sakura and Green Tea flavors. Mr. Donut, a donut shop originally from Boston, is pretty much only in Asia these days and the ones in Japan make some great donuts. The "Premium Donut" I tried was Strawberry donut filled with cream cheese and a special strawberry topping. The best croissants I've ever had and more amazing pastries were found at La Boutique de Joel Robuchon. Leave it to legendary French Chef, Joel Robuchon, to set up shop in Ebisu, Tokyo and sell these. My favorite ice cream is Green Tea soft serve and I first had it at the Osaka Castle 14 years ago. Luckily they were still serving it and I enjoyed. Japan is known for some unique food concoctions and the Caramel "Salt" Potato Chips topped with ice cream at Wired Cafe in Kyoto was awesome. The green soda above is Melon Soda and really one of the only sodas that I drink. Very hard to find in the U.S. but glad I found a Melon Soda soft serve ice cream float at White Cosy inside Tokyo SkyTree. Crepes are one of the most popular street food items and can be found at pick up window restaurants to small food trucks. This strawberry and cream crepe was found at a food truck in Harajuku. Last but not least is a Caffe latte made with "Coffee Jedi Series" at Sarutahiko who roasts their own coffee beans in Ebisu, Tokyo.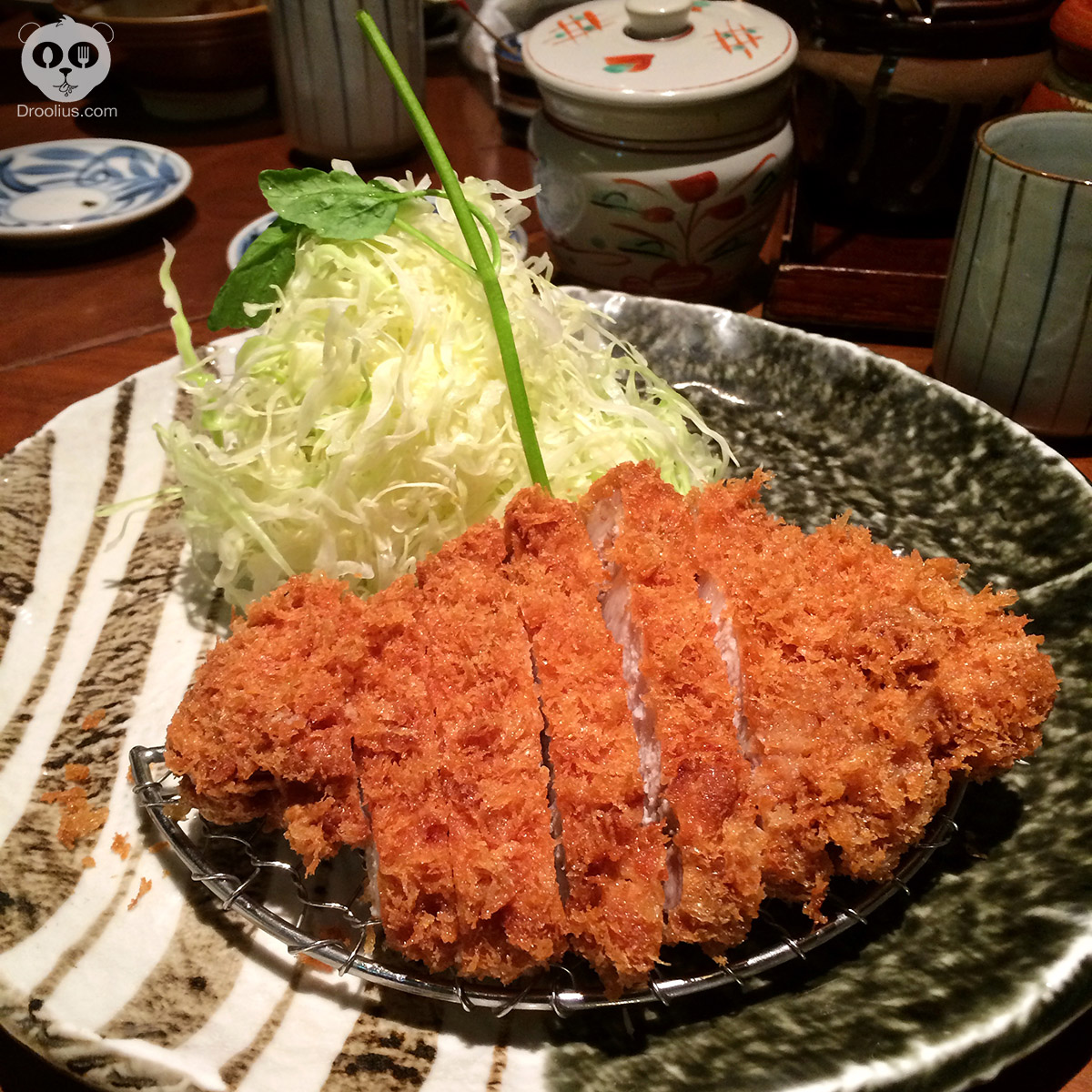 (click image to enlarge)
One of the best things I ate on this Japan trip (besides Ramen or sushi) was Pork Tonkatsu at Katsukura in Shinjuku, Tokyo. My expat friend and Japan host, Brian aka Orangeboi, took me here because it's one of his favorites in Tokyo and I can see why. The pork they serve in Japan is such good quality and when this pork loin cutlet comes out with a crunchy outside and super moist flavorful inside, you just eat and your eyes roll back in bliss. I had a few Pork Tonkatsu dishes in both Manila and Kyoto, but this was my favorite one. I'm not sure if this was Kurobuta pork, the highest quality Berkshire pork, but it was so good. I previously ordered Tonkatsu with Kurobuta pork and this one at Katsukura just edges them out.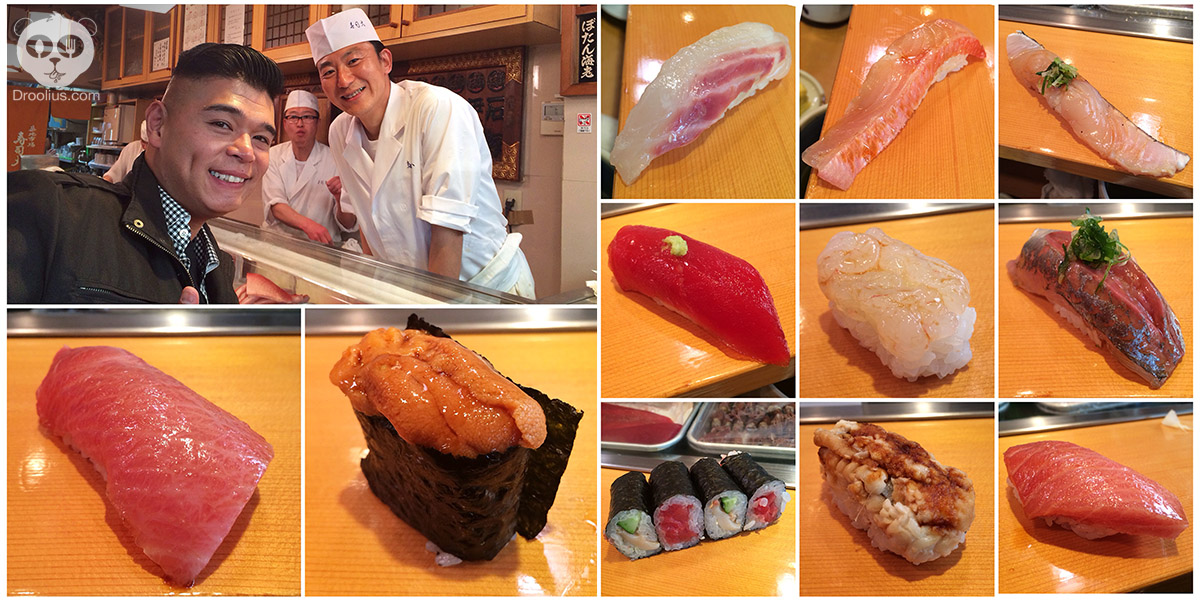 (click image to enlarge)
One of the must stops in Tokyo is the early mornings at Tsukiji Fish Market. If you're lucky enough to get there early, like around 5am, then you can try to get in line for the tuna auction, which is very limited to the public. Since the trains start running again around 5am, the only way to get to the market super early to beat the lines is by cab or staying at a local hotel. I made it to the fish market a little after 6am by taking a train, so I was left to see the outside market and get in line for a sushi breakfast. Of course I would get in the longest line for the most well known for sushi breakfast at Sushi Dai. After waiting 4 hours and 20 minutes, I ate the best sushi I've ever had! Why did it take four hours? Because they only have 12 seats and make everything to order. Omakase (chef's choice) at Sushi Dai is the way to go. For 4000 yen (approximate $39 USD) you will experience sushi heaven and well worth the wait. The sushi breakfast consists of 10 courses of chef's choice sushi, a side dish or two, a miso soup, and your one choice of sushi. We started with Otoro sushi (fatty tuna) and that's what I chose for my 11th piece of sushi. The Otoro was amazing and so was the Uni. I've never had Uni so fresh and taste so good. An affordable sushi meal considering the high quality fish/seafood, the hospitable sushi chefs, and creating a very memorable experience on my last full day of Tokyo.
On this trip I ate lots of Ramen in Japan, just because it was very affordable everyday around $10 USD, and I had my quest on discovering the best Ramen I could find. I would have loved to have eaten more sushi, but the experiences I had have were great. So many great food and travel moments in Japan, I recommend going on a trip of your own. Go during Sakura season, not only because Japan is beautiful around that time, but the weather is cool to warm, and not freezing winter or hot and humid summer time. You'll enjoy the travel more and experience the culture better.
So after six weeks of travel, 17 bowls of Ramen in both countries, about 28 days of eating pork in the Philippines (because it's so good), countless miles of walking and taking trains in Japan, numerous memories of food, travel, and visits with family and friends, my trip finally came to an end. Not sure if I'll be able to experience another trip like this again, but glad I could share it here. Stay tuned for more posts about food in the Philippines and Japan. So many more restaurants, travel tips, food and culture to share.


*Photography notes – 97% of these photos were taken with an iPhone 5s, a few with a Canon S110 point & shoot camera, and one with a Canon 60D DSLR.

Words and photos by Julius Mayo Jr.
Content and photos © Droolius.com 2014