Discovering new food is a great experience, especially when it's with a cuisine you have been eating for a while now. This was the case when I attended a dinner with a group of fellow food bloggers at the NaraDeva Thai restaurant. The Traveler Foodie invited our group to get a taste of authentic Thai cuisine, one that is off the beaten path of many Thai restaurant menus. The hospitable owners and staff served us a wide variety of Thai dishes and desserts, none like I have experienced in Orlando. The menu offered, often found dishes like Pad Thai, Thai curries, meat or vegetable dishes, but we were not here to try those. We let the experts show us food bloggers a variety of Thai food and it was an enjoyable and delightful experience.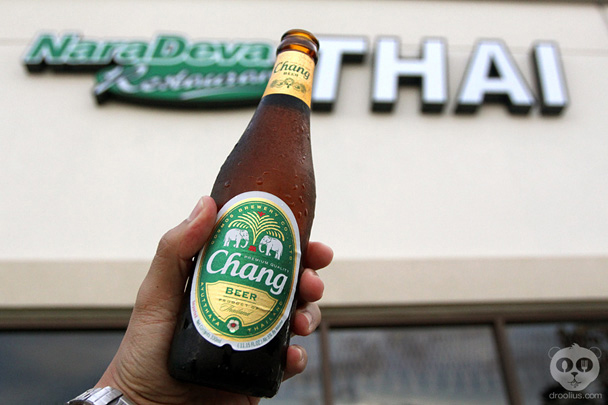 (click image to enlarge)
I met up with fellow bloggers Megayummo, Tasty Chomps, Forkful, WatchMeEat, and OrlndoFoodie. We were greeted by the kind owners and staff, and proceeded outside to the patio of NaraDeva for some beverages. Offering a variety of wines, sodas, and Thai drinks, I opted for a bottle of Chang beer. First time to have this beer and it was light and refreshing. Moving back inside after everyone arrived, we sat down in the nicely designed interior filled with different pieces representing Thailand.
The food soon came out, and it did not stop. There were appetizers, specialty salads with various proteins, a variety of seafood items, meat entrees served with rice, and desserts at the end of the meal. Everything used fresh ingredients and had pronounced Thai flavors. It was literally all good and I enjoyed everything. Its hard to pick out my favorites and I have tried. (I actually went back after this meal a few weeks after, and our group pretty much ordered very similar to this with a few additions). So I will expand upon a few that really stood out, but you will just have to go through all of the photos and descriptions to see what we all enjoyed.
(click image to enlarge)
Chicken Satay and Chicken Curry Puffs
The Chicken Satay was good, but I enjoyed the Chicken Curry Puffs more. They were light, fluffy, and had a good curried chicken and potato filling. Not spicy, but just a good tasty opener.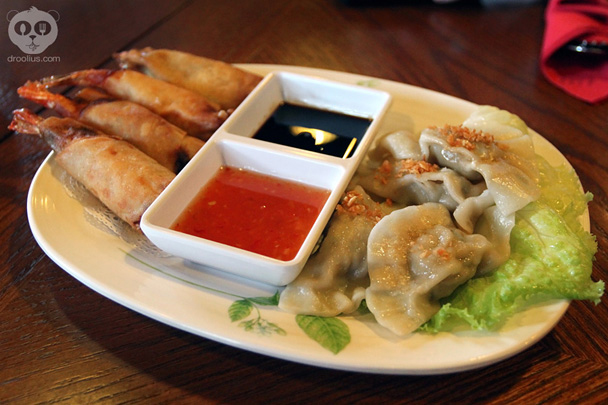 (click image to enlarge)
Steamed Dumplings and Shrimp Rolls
The Steamed Dumplings were made well, good texture, and the filling paired well with sauce.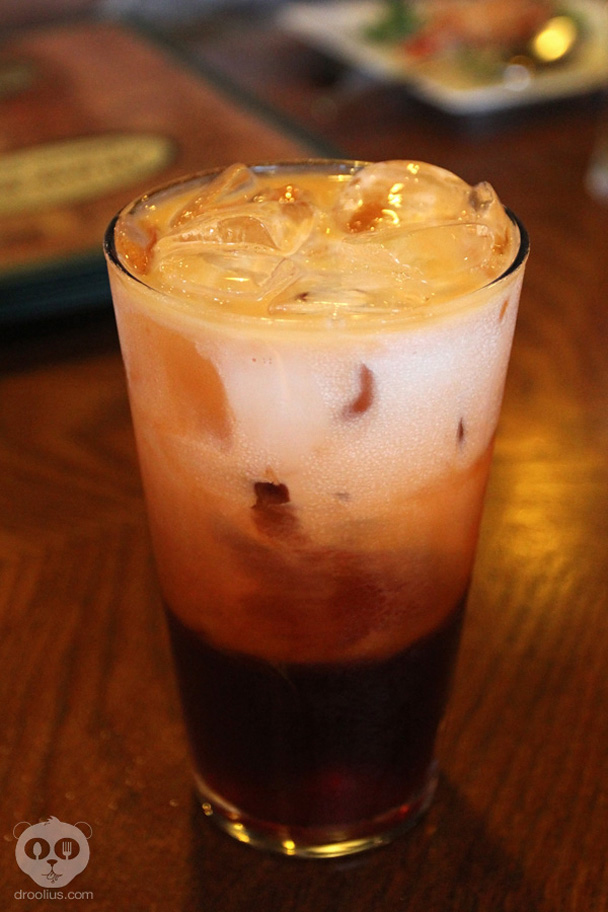 (click image to enlarge)
Thai Iced Tea
I think I had two of these this evening, which is pretty typical when I eat Thai food. Soothes the palette when eating spicy dishes.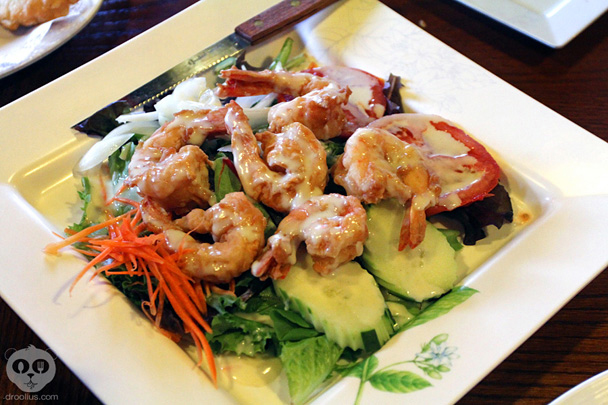 (click image to enlarge)
Crunchy Shrimps Salad
Crunchy battered shrimps, on a bed of mixed vegetable salad, drizzled with House Recipe tangy Thai Salad Cream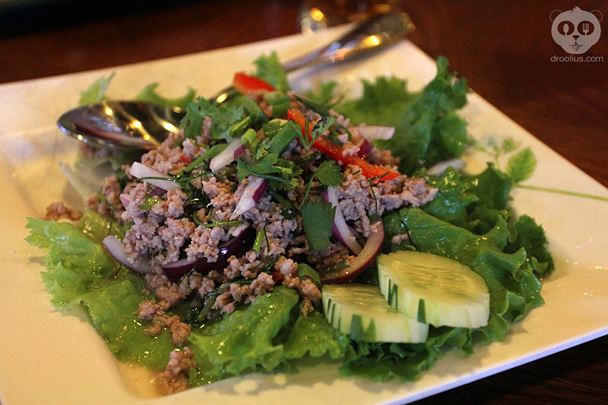 (click image to enlarge)
Mince Spicy Salad (Laab)
Ground Chicken or Pork – spicy & sour salad with ground roasted rice, onions, shallots, dried chili & mint leaves
The Mince Spicy Laab Salad had a nice lingering heat that was quite addicting. Get this if you want a kick start of heat to your meal.
(click image to enlarge)
Spicy Beef Salad (Yum)
Slices of grilled Beef Steak, tossed in spicy & sour salad sauce, with cucumber, tomatoes, scallions, and cilantro
I sometimes order this as an entree, but we all shared this one and got a taste of the Spicy Beef Yum Salad. Available in mild, medium, or spicy, this dish has nicely prepared slices of steak that goes well with the spicy & sour dressing along with the veggies.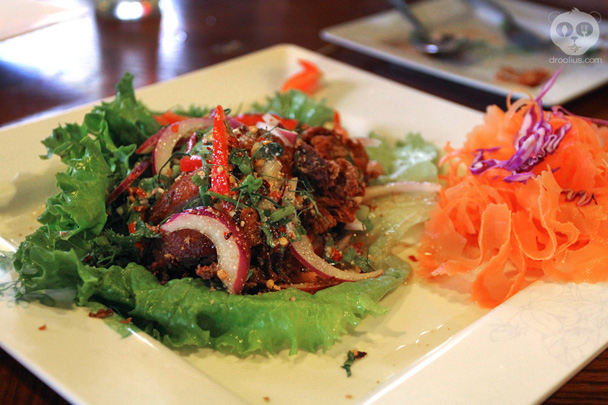 (click image to enlarge)
Crispy Duck Spicy Salad
Lightly battered, crispy Boneless Duck, topped with spicy & sour chili & lime juice sauce with roasted ground rice, bell pepper, shallots, scallions, cilantro & kaffir lime leaves
This was one of my favorites, the crispy duck paired well with the greens, veggies, and dressing. I liked the crispy pieces of duck contrasting against everything else in the salad.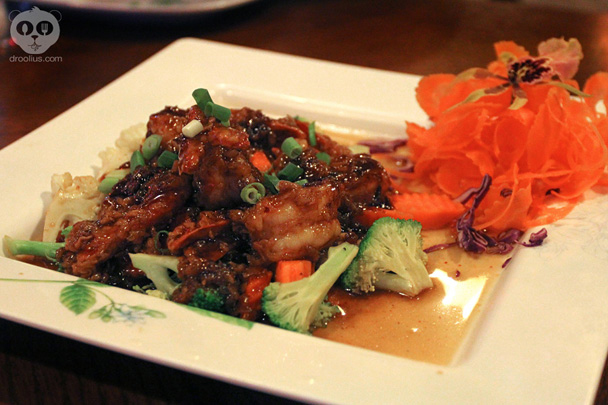 (click image to enlarge)
Battered Prawns in Sweet Tamarind Sauce
Crunchy battered prawns, sautéed in Sweet Tamarind Sauce served on a bed of Steamed broccoli, cauliflower & carrots
(click image to enlarge)
Thai Red BBQ Fried Rice – Fried Rice with B.B.Q. pork, eggs and chopped scallions
This fried rice was a good addition to the meal. While I don't always order fried rice because dishes often come with steamed white rice, this could be an entree itself or a good side.
(click image to enlarge)
Deep-Fried Whole Snapper with of sweet chili sauce red chilies, garlic & bell pepper
If you like to eat fish or seafood, this is a good try. The whole fried snapper was moist on the inside, with the sweet chili sauce adding another layer of flavor that complimented the fish.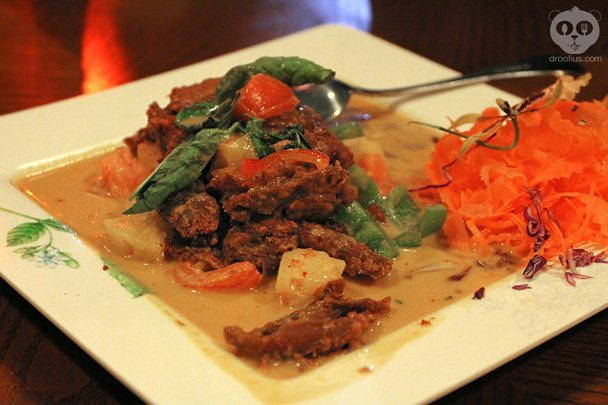 (click image to enlarge)
Crispy Duck in Red Curry
Boneless Duck, lightly battered, deep fried until crispy in Red Curry Sauce, with tomatoes, bell pepper and pineapple chunks
A combination of two of my favorites. Crispy duck in a curry sauce, the two combined well together. The red curry sauce was slightly spicy and savory, it gave the duck a good rich flavor. The chunks of pineapple added a nice touch of sweetness too.
(click image to enlarge)
Classic Combo: Coconut Pandan Rice with Thai Jerky (Beef) and Papaya Salad
The Classic Combowas another highlight. The slightly sweetened coconut Pandan rice was great with the Thai Jerky which was flavorful and meaty. The Papaya salad brought a refreshing note to the dish. This is a dish not often offered in many Thai restaurants locally, but its a must try here to get that "classic combo" flavor of Thai cuisine. It all works well together or individually, either as an entree or appetizer.
(click image to enlarge)
Soft Shell Crabs with Fresh Ginger sauce
Crispy battered Soft Shell Crabs with Fresh Ginger sauce – Ginger strips, straw mushrooms, onions and red bell pepper sautéed with traditional sauté sauce
The Soft Shell crab was very easy to eat. The Ginger sauce was a great accompaniment adding a refreshing ginger flavor to a savory whole pieces of fried soft shell crab. If you have never had soft shell crab, no picking out the meat is involved. Just eat as is and enjoy.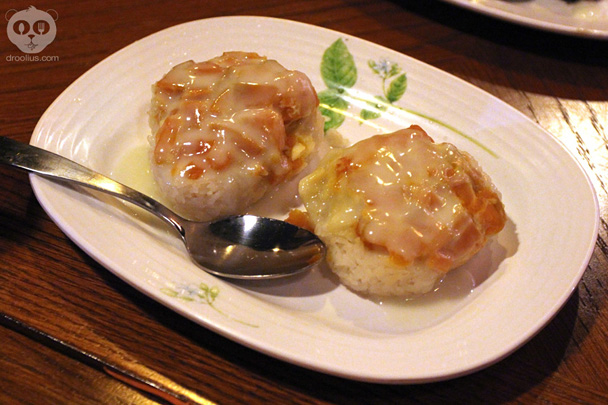 (click image to enlarge)
Sticky Rice with Pumpkin Custard
Sweet Sticky Rice, steamed with coconut cream, topped with Pumpkin & Coconut milk custard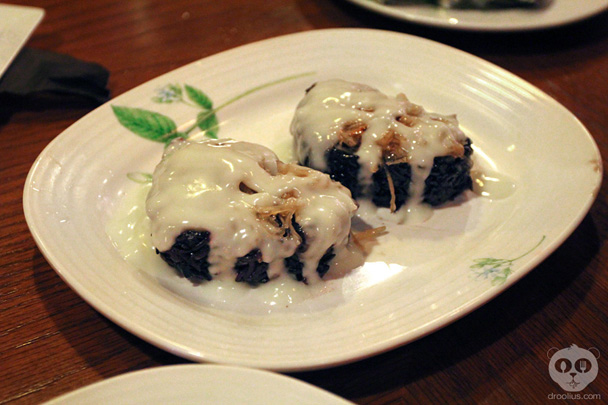 (click image to enlarge)
Black Sticky Rice with Coconut in Palm Sugar Caramel Topping
Black Sticky Rice with Shredded Coconut in Palm Sugar Caramel topping, topped with Coconut Cream Sauce
(click image to enlarge)
Thai Coconut Cup Custard
Steamed coconut cream & rice flour custard pudding in mini cups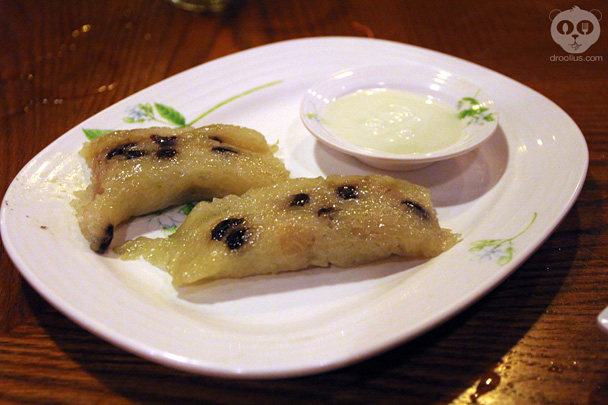 (click image to enlarge)
Sticky Rice with Sweet Taro Stuffing
Steamed and served wrapped in banana leaf, with Coconut Cream Sauce dip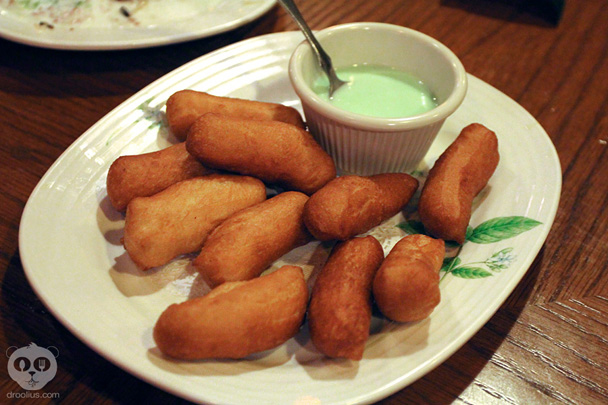 (click image to enlarge)
Thai Doughnuts with Pandan Coconut Custard Dip
I actually had room for dessert and got a taste of each one. Some were very familiar to me (similar to Filipino desserts I grew up with) and some I have had before. I think they are all worth a try if you want to try something different or new. If you want to have a familiar dessert then one of my favorites was the Thai Doughnuts with Pandan Coconut Custard Dip. The donuts are addicting, and even if you are full, you cannot resist eating a few and dipping them in the Pandan Coconut Custard Dip to add a touch sweetness.
The NaraDeva Thai Restaurant is what I've been looking for in Thai cuisine in Orlando. With a large menu of many Thai classics, this restaurant also offers many dishes from Thailand that are worth exploring. The restaurant and staff are very welcoming and it is a great stop for lunch or dinner, either by yourself, for an intimate date, or a large party. A great place for sharing and trying many dishes, I recommend it for anyone to try.

NaraDeva Thai Restaurant
4696 Millenia Plaza Way
Orlando, FL 32839
407-903-0300
www.naradevathai.com
Twitter @NaraDevaThai
Facebook page


Words and photos by Julius Mayo Jr.
Content and photos © Droolius.com 2011
Disclosure: The food mentioned in this post was provided by NaraDeva Thai Restaurant, however the views and opinions expressed in this post are purely my own.
Giveaway contest
So who's ready to try NaraDeva Thai Restaurant? I am doing a give away for a $30 gift card, gifted by the owners of NaraDeva, to a random reader of Droolius.com who does the following:
• Leaves a comment below, stating your favorite dish to order when visiting a Thai restaurant, or a dish you would like to try above.
AND
• Likes the Droolius on Facebook.com/DrooliusBlog or follows on Twitter @Droolius and announces: "I commented on the NaraDeva Thai blog post".
The deadline to enter this giveaway is Thursday, December 29, 2011 by 11:59 p.m. The winner of this giveaway will be announced on Friday, December 30th, via this blog post, Facebook, and Twitter. If you won, you will know! Good luck!