Hand-pulled noodles are something that I've seen on a few travel and food television shows, and something I thought I would have to travel to mainland China to actually eat. On a recent trip to the Bay Area I had some friends take me to QQ Noodle in Fremont, CA which makes their own noodles and performs this art of hand-pull noodles. Its all about the noodles here and these Beijing style noodles are definitely a quality noodle in texture and size. They have a firm yet chewy texture that has a certain bounce, an enjoyable characteristic while eating. The noodles are a bit long and they provide scissors if you want to cut the noodles in your dish.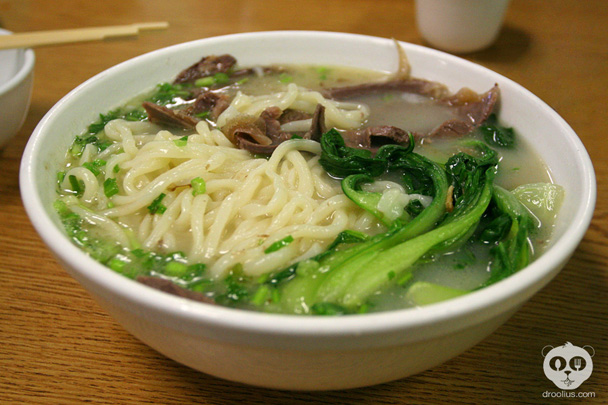 (click image to enlarge)
At QQ Noodle they offer a menu of dishes that have complimenting ingredients to the noodles. They offer a number of soups, along with a few noodle dishes and a few appetizers.
We first started with 2 appetizers. I just let my friends order these because I'm willing to try anything usually at least once. I also like to try the item first before I ask what it is so I don't have any reservations in trying a particular item. It works out better this way at times.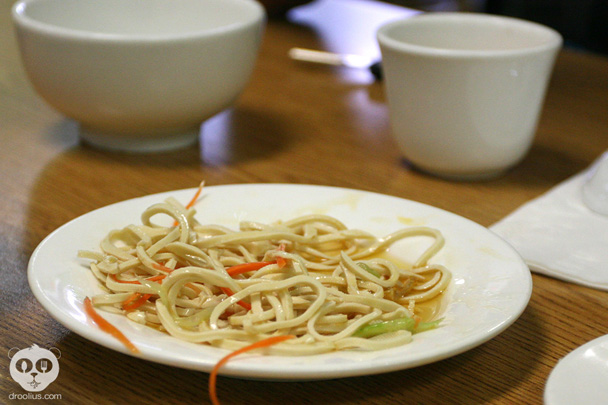 (click image to enlarge)
Shredded bean curd w/ celery and carrot – I like tofu and this was a nice cold appetizer. This was the second time this trip where I had tofu in a noodle type form and I really liked it. I was not the only who liked this type of dish and let's just say I was not fast enough with the camera because everyone attacked this one and I have here what is less than half of the portioned served.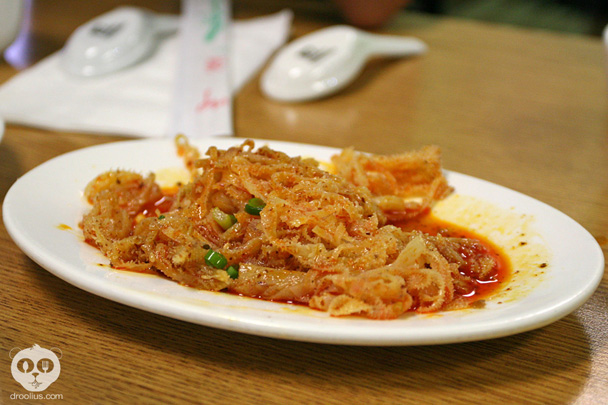 (click image to enlarge)
Tripe w/ hot oil sauce – ok I'm glad they didn't tell me what this was before I ate it because I'm not the biggest fan of tripe. Its a texture thing I guess. I do like hot sesame oil so I was down to try this and glad I did. I guess its all in how you prepare the dish and in this case the tripe was soft and not too chewy, so it was tolerable to eat. The hot oil definitely made it for me.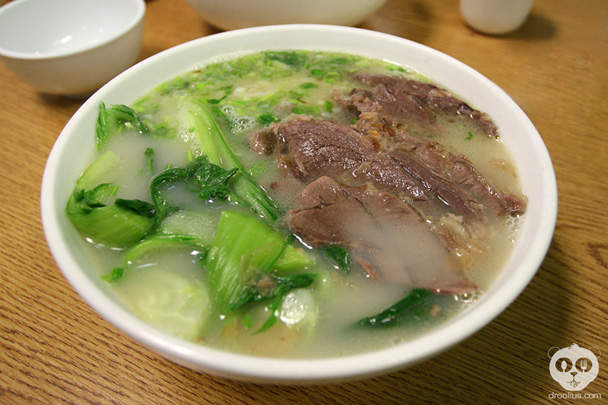 (click image to enlarge)
Long time boiled thick noodle soup & beef – this is how the dish looked prior to mixing it up and allowing the noodles to surface. A steamy bowl of soup with beef and baby bok choy floating was visually pleasing.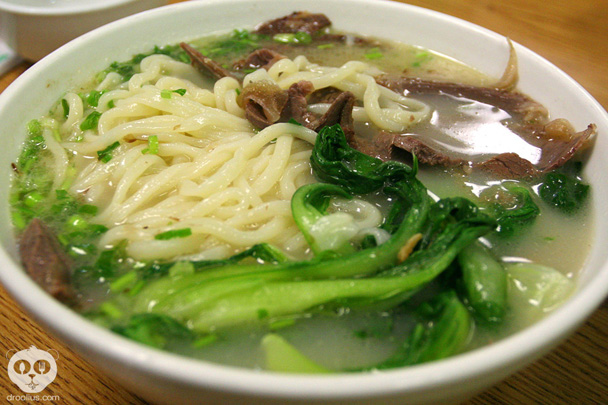 (click image to enlarge)
The Long time boiled thick noodle soup & beef was what I ordered and it was perfect on this cool day. Another reason being perfect was because I was feeling a little under the weather that day and I needed a soup that was not oily or bold in flavors to calm my stomach from all the spicy foods I ate the day before. The firm chewy noodles were fun to eat along with the tender pieces of sliced beef. The broth was subtle in flavor but had a savory note. You could tell it was boiled a "very long time" to develop the flavor. Although some may say the soup could need more seasoning, I think it was a good combination of subtle flavors that complimented the star of the show, the noodles! To actually taste and enjoy the noodles was great.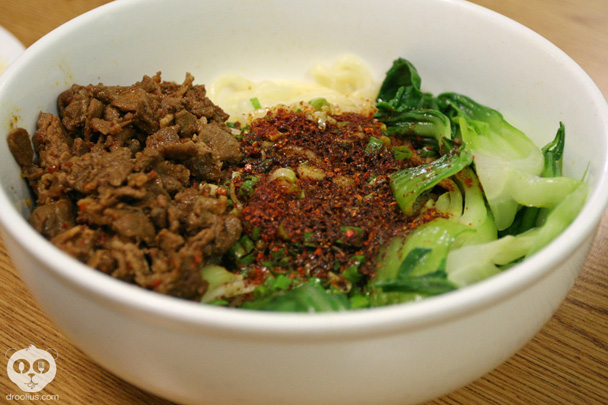 (click image to enlarge)
House special sour & spicy pork sauce noodles – This was a friend's dish and it looked very appetizing to me. The red spices alone made me want to try the dish. After the previous day of spicy foods however I just enjoyed it visually and maybe next time I can try this one. The dish overall looked and smelled good and spicy. I was told it wasn't too spicy and it was a tolerable amount of spice for those who prefer a mild heat.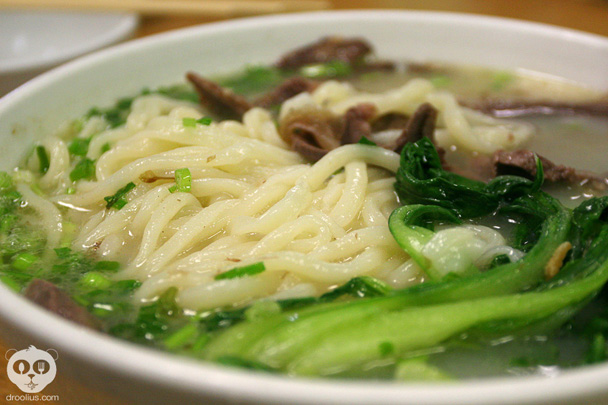 (click image to enlarge)
This was a very enjoyable meal and I'm happy to finally have tried the hand-pulled noodles. The firm chewy noodles will make your mouth bounce while chewing, a fun way to eat noodles. This may not be everyone's ideal noodle texture but I liked it and always try to experience another culture's food with an open mind. The restaurant had a bright interior atmosphere with food that had quality ingredients, dishes with fresh vegetables, and they have good hot tea. The menu has nice sized pictures to help you order and can be challenging because it all looks good.
QQ Noodle is open 7 days a week so you can get your hand pulled noodle fix almost anytime you want. Check out there website for times, locations, and menu – http://www.qqnoodle.com/
QQ Noodle
3625 Thornton Avenue
Fremont, CA 94536
(510) 713-0228
http://www.qqnoodle.com/
Words and photos by Julius Mayo Jr.