An all you can eat sushi buffet is not the place you always expect to find high quality food. This being America where more is better, places tend to shy on the quality. Well to my surprise the Fuji Sushi Buffet in Elk Grove, CA had good quality sushi grade fish and other great items. The first indicator should have been the long line that formed prior to opening. We were near the front of the line on a Sunday morning and almost at opening at 11am the line was half way around the building.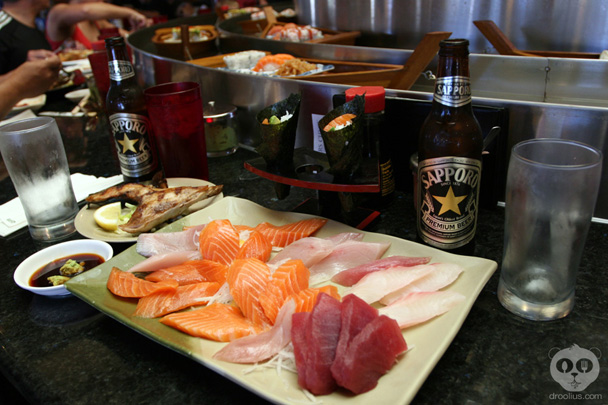 (click image to enlarge)
My best friend who went to culinary school swore this place was good. I admit I had my doubts because quality of fish is a key importance to me and having eaten sushi around the world and tasting freshness of quality in places in Japan, Hawaii, and around U.S. I have a developed palate I'd like to think. But him being a trained culinary professional I went in with good hopes and all I can say is wow, this place is good!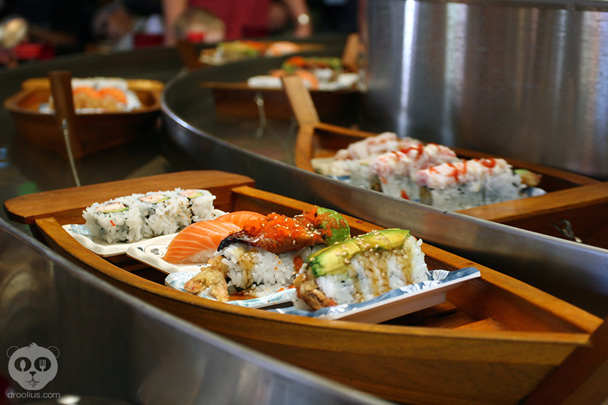 (click image to enlarge)
We sat down at the sushi bar which was a double river of floating sushi boats and he began to yell out cusom orders to the sushi chefs and out came this amazing plate of quality cuts of sashimi and it was all great! The freshness and quaility really impressed me.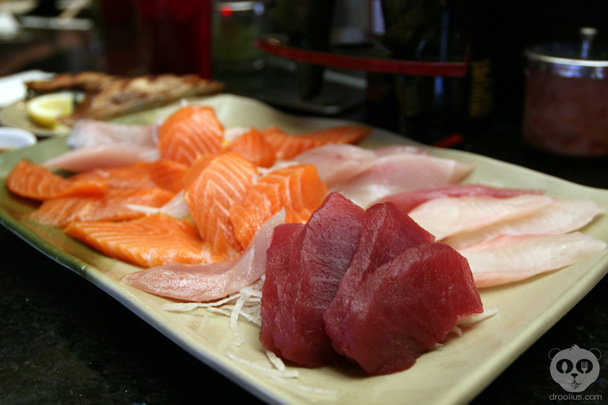 (click image to enlarge)
Good sashimi: Salmon, Tuna, Hamachi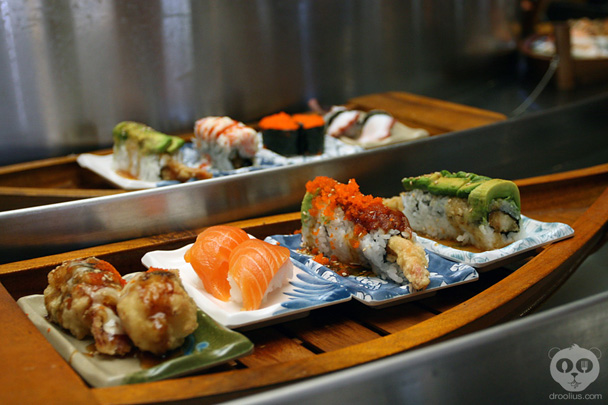 (click image to enlarge)
We tried some rolls that floated by and ordered some beers, and watched some Sunday football on the flat panels above.
(click image to enlarge)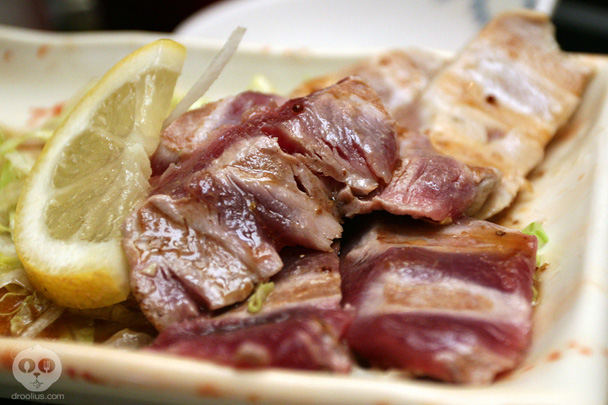 (click image to enlarge)
At the sushi bar you can order some grilled fish like seared tuna (above) or grilled hamachi (below).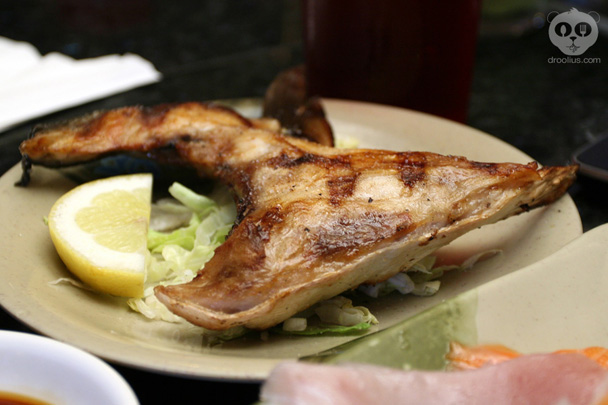 (click image to enlarge)
A squeeze of lemon on this Grilled Hamachi Cheek was heaven.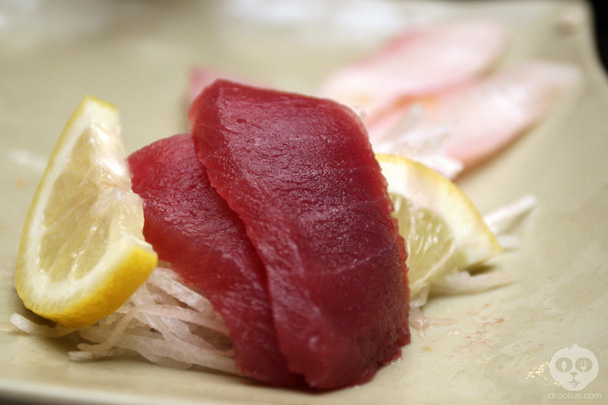 (click image to enlarge)
Tuna Sashimi was really of good quality and surprised me because usually at buffets you get a bright red piece of fish. This tuna had deep red color and texture, freshness was on point.
(click image to enlarge)
Unagi Nigiri aka grilled eel was good too.
(click image to enlarge)
The sushi chefs took custom sushi orders too like hand rolls or other items that did not float by on the boats.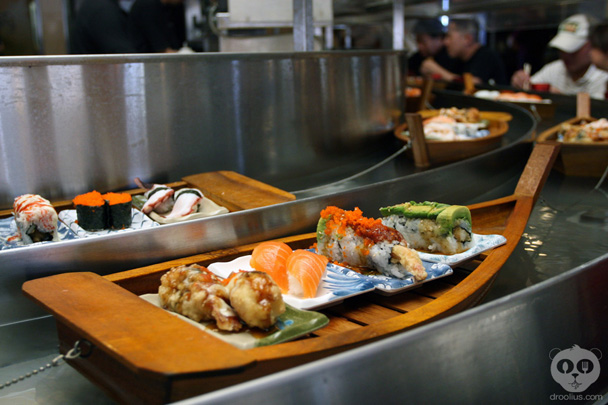 (click image to enlarge)
The experience here at Fuji Sushi was a great one for us. We thoroughly enjoyed the sushi and beer, and great food in general. I was entertained by all the good looking sushi that floated by and wish I could have ate much more. If you're in the Sacramento area definitely stop by and get your sushi fix on. The location we went to was in Elk Grove, CA just south of Sacramento. There is another Fuji Sushi Buffet location in Sacramento near UC Davis. A definite food stop for sushi for any NorCal trip!
Fuji Sushi Buffet
8473 Elk Grove Boulevard
Elk Grove, CA 95758-9573
(916) 683-8288
Words and photos by Julius Mayo Jr.