Today is National Grilled Cheese Day so we will take a nostalgic look at a favorite grilled cheese sandwich. Last year in April 2011, a deep fried grilled cheese sandwich was born in Orlando. It was the best of three worlds: a grilled cheese sandwich, with bbq brisket, and deep fried. The sandwich was called the Deep Fried Droolius and it was from the (now retired) Red Eye BBQ Truck. The popular BBQ food truck had a "Create your Own Grilled Cheese" option and I definitely used to come up with my own concoction almost every trip. One day I asked them if they could deep fry a grilled cheese sandwich and they said, "Sure, why not?" So after creating a batter to deep fry sandwiches, the following sandwich was born: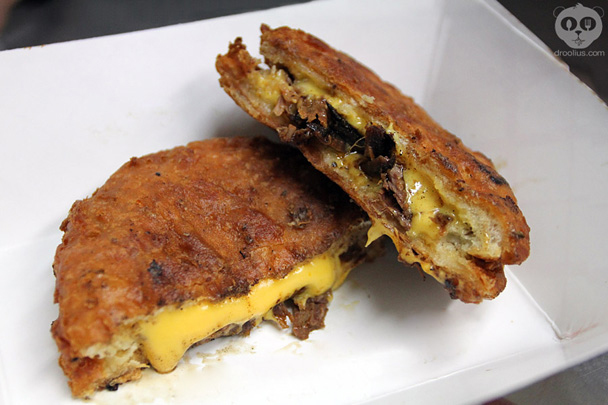 (click image to enlarge)
The Deep Fried Droolius – Red Eye BBQ house smoked brisket, bbq sauce, and cheese slices in a round bun, battered and deep fried.
The Deep Fried Droolius started with house smoked brisket hitting the flat top and being chopped up with BBQ sauce drizzled on top. Searing in bbq sauce, it forms a caramelization from the sugars and creates little bits of texture goodness. The brisket is then put into the soft round bun with a few pieces of cheese. The bun is pinched on the outer edges, pressed and lightly grilled on the flat top, battered, then deep fried. What you get is a light crunchy outside with a hot oozing cheesy center filled with bbq flavor and spices. It was amazing to say the least. After my first one, I had to call it the Deep Fried Droolius.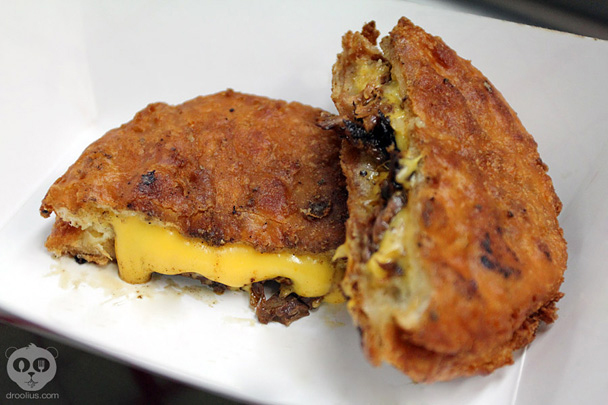 (click image to enlarge)
After posting a photo on the Droolius Facebook page, I was surprised to hear that people started to order this fried cheesy goodness from the truck and it was not even listed on the menu. I could really use one of these today to celebrate National Grilled Cheese Day!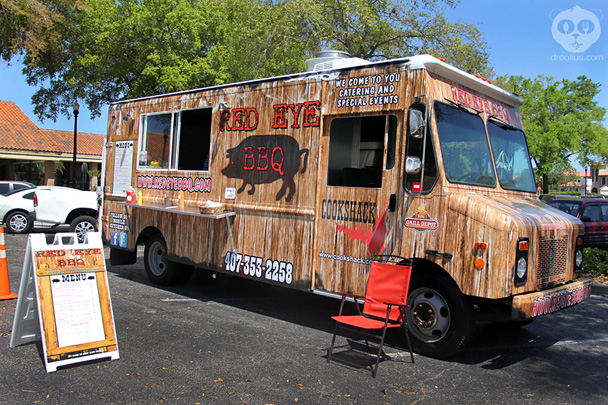 (click image to enlarge)
Ah, the good old days of Red Eye BBQ. You guys are missed in Orlando. The owner Rob retired the truck last year to move to Hawaii for work. I'd probably do the same to explore the Hawaii food scene. He keeps everyone updated with the Hawaii food truck scene on the Red Eye BBQ facebook page.
One day I hope to have another Deep Fried Droolius at the Red Eye BBQ Truck. It might even be in Hawaii…
Red Eye BBQ
Twitter @RedEyeBBQ
Facebook Red Eye BBQ facebook page
Original Droolius feature on Red Eye BBQ: https://www.droolius.com/2011/03/red-eye-bbq-food-truck-orlando-fl/

Words and photos by Julius Mayo Jr.
Content and photos © Droolius.com 2012