One block south of Lincoln Road in Miami's South Beach, there's a restaurant focusing on Southern comfort food with a culinary touch. Southern style food has deep roots in history, but when you utilize a team of talented chefs who highlight seasonal ingredients, the food just turns into more creative plates for this old country fare. Yardbird shows that you can take old Southern cuisine and turn it up a notch in flavors and experience.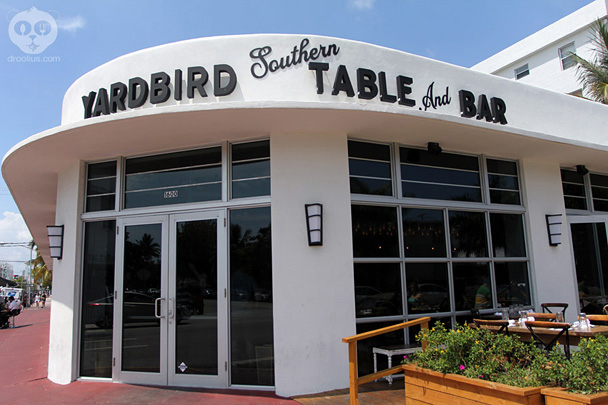 (click image to enlarge)
I was in Miami for a food event and of course I had to spend the entire weekend eating at my favorite spots and also try a few new ones. One on the list was Yardbird for brunch. I walked by this place back in February and it was buzzing with people inside of the restarant and out on the patio. My food partner O.D. and I grew up in a small town in SouthWest Florida and we both love Southern food. Looking over the menu on the drive down, we pretty much wanted to try everything on the menu. Get ready for the food photos and descriptions, they will most likely make you drool.
As with every restaurant I visit, I take many photos. You do not understand how hard it was to not just dig in with the amazing smells of food hitting you in the face. Big thanks to my food partner O.D. for being patient as I did a mini photo shoot with each dish.
PLEASE click on each photo for maximum viewing pleasure…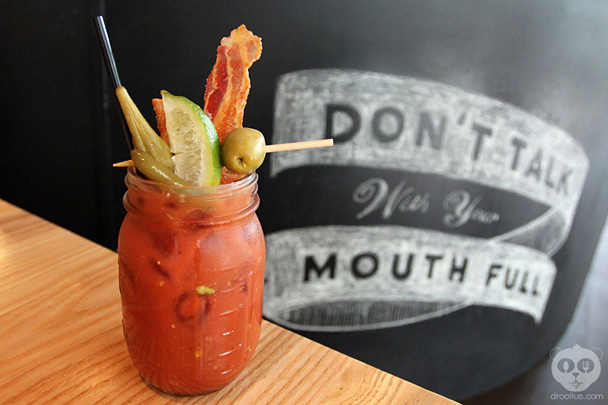 (click image to enlarge)
Yardbird Bloody Mary with olive, lime, pickle, pickled okra, & BACON garnish
We started brunch off by ordering a Bloody Mary. It was one of those things we sat down and just asked if they had. When this amazing looking cocktail came out in a glass jar in classic Southern style, along with bacon garnish, we knew this was the best choice. The garnishes were a unique combination that complimented the Bloody Mary with its bits and textures. It had 2 pieces of bacon garnish! This could have been brunch by itself.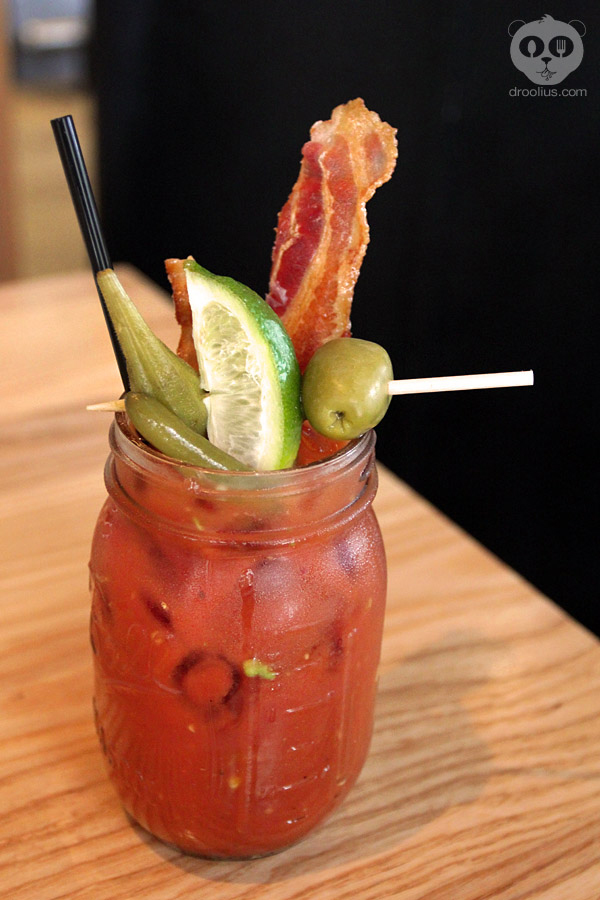 (click image to enlarge)
Another shot of the Yardbird Bloody Mary, just a beautiful concoction of flavors and textures.
(click image to enlarge)
Fried Green Tomato BLT – Heritage Acres Farm pork belly, greens, fried green tomatoes, tomato jam, housemade pimento cheese
The first "small share" menu item to come out was Fried Green Tomato BLT. This was a balanced and savory dish packed with enjoyable flavors. The pork belly was rich in flavor and provided bites of juiciness and crispiness. The house made pimento cheese added a creamy texture with a touch of tang, while the fried green tomato was moist and gave a fresh tart note. THIS is the BLT that you never had, but you wish you had. Eat all components together and it is a well married pairing, hitting all of the flavor senses.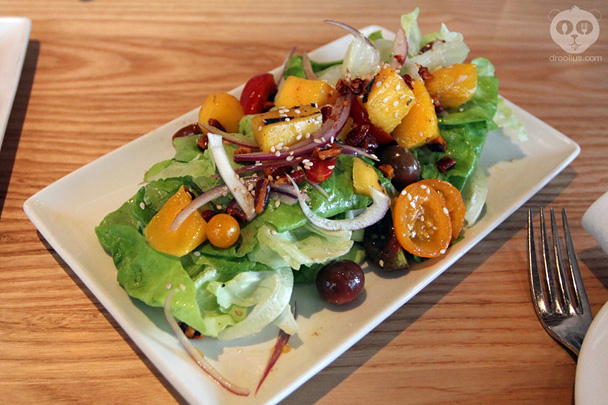 (click image to enlarge)
Butter Lettuce & Grilled Mango Salad – Swank Farms butter lettuce, fresh mango, smoked pecans, benne seed vinaigrette
The salad was refreshing with the light benne seed vinaigrette and the grilled mango added nice bright flavors to go with the smoked pecans. This is a great accompaniment for any meal when you are eating lots of savory pork dishes. I picked at this throughout the meal, which gives a freshness to the palate after each plate.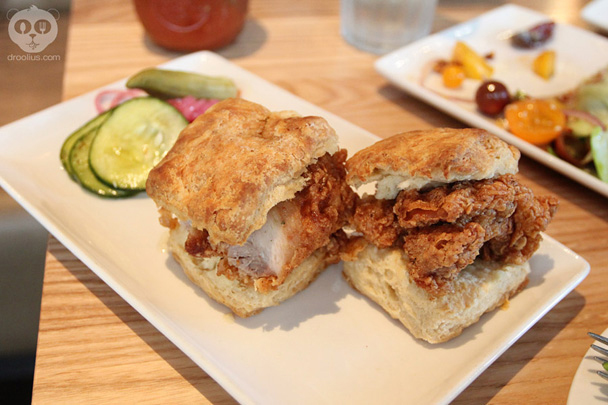 (click image to enlarge)
Mama's Chicken Biscuits – free-range fried chicken, pepper jelly, housemade buttermilk biscuit
Mama's Chicken Biscuits were the second item to come from the "small share" part of the menu and oh was this good. Fluffy housemade buttermilk biscuits stuffed with their popular fried chicken. The fried chicken is really great here, very moist and juicy, seasoned perfectly with the right amount of crunch. The menu lists a pepper jelly but there also seemed to be a light honey drizzle that coated the fried chicken, just turning up the flavor dial. Savory, spiced, and a touch of sweet. Can it get any better? Of course Yardbird adds some pickled cucumbers, onions, and okra to help cut through the richness of the dish. The pickled onions added even more flavor to each bite of the chicken and biscuit. Try it, you will enjoy.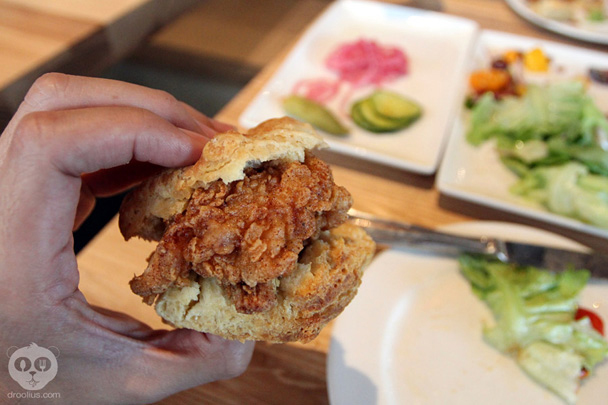 (click image to enlarge)
Get in my belly! Mama's Chicken Biscuits
(click image to enlarge)
Shrimp n' Grits – Florida shrimp, crisp Virginia ham, Adluh SC stone ground gritswith savory cheddar & chow chow waffle, spicy Tupelo honey and citrus pepper
My first bite and my thought was "WOW." Creamy savory cheddar grits topped with crispy Virginia ham and Florida shrimp. It all paired so well with the sauce, which brings it all together in a flavor masterpiece. See the description above for the list of components, it all comes together beautifully. So many different textures and flavors, just an enjoyable dish. You don't have to go to Atlanta for a great shrimp and grits dish, just stop by Yardbird for this Southern classic in South Beach.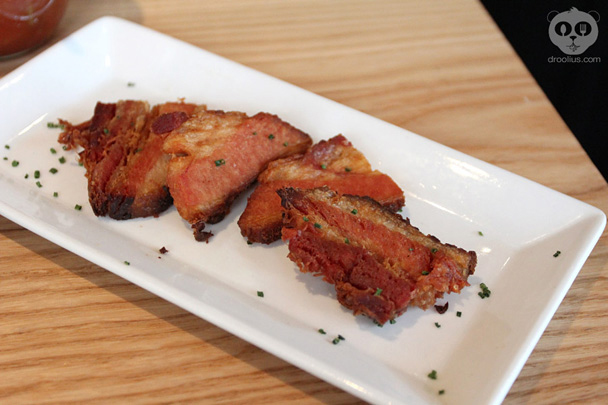 (click image to enlarge)
Bacon – house cured and smoked Tamworth pork belly
Smokey house cured pork belly bacon, fried to a crisp outside with moist fatty pork belly goodness. It is a side dish, and one not to be ignored.
Next… Bonus Plate!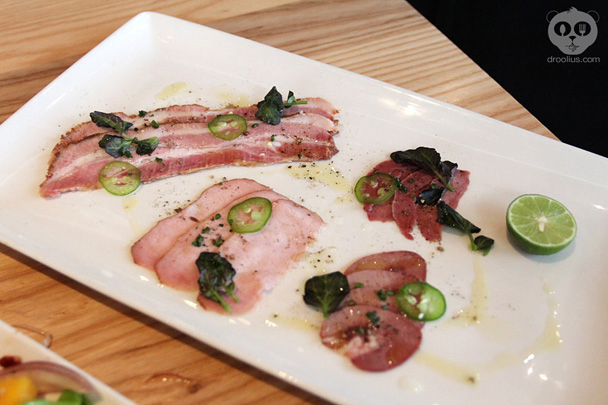 (click image to enlarge)
Charcuterie plate (A preview of Cochon Miami event) – Pork belly bacon, pork loin, bourbon marinated heart & kidney
Our friend and Top Chef Alum, Kenny Gilbert, surprised us with this Charcuterie plate, which was a preview of what they were serving for the Cochon Miami event the following day. This plate featured different parts of a large pig that the Yardbird team prepped for the porky culinary event. Since we did not have plans to attend the event, we were just happy we got to sample a taste of the creativity they had in store for Cochon.
House cured pork belly bacon, pork loin, bourbon marinated heart & kidney. All of the flavors were light and balanced, with additions of thinly sliced peppers for a touch of heat and a squeeze of local key lime. The pork belly bacon had a nice light smokey rich flavor with a touch of sweet. The pork loin was sliced thin and had a hearty texture with a light punch of salt. The bourbon marinated heart & kidney tasted like premium deli cut slices and did not have the gamey or innards flavor typically associated with them. The kidney surprisingly tasted like a quality cured salami.
A very enjoyable plate, thanks to Chef Kenny for sharing with us and stopping by the table to give us an overview of the Charcuterie and some of the previous dishes. We met him last year at the Bravo Top Chef Tour stop in Orlando. Since then, he has made the move from Jacksonville to South Beach to practice his culinary talents. He currently is the Corporate Chef for 50 Eggs Restaurant Group, the group responsible for Yardbird. Teamed up with Yardbird Executive Chef and Top Chef Alum, Jeff McInnis, they are truly creating great food and both are seen working in the viewable kitchen at Yardbird.
(click image to enlarge)
Pumpkin Beignets – powdered sugar, strawberry preserves
Was there room for dessert? There's always room if they are serving Beignets! These were great, sugary outside with crisp fried outer shell and warm smooth pumpkin filling. Not too heavy or overly sweet. It was just right. Stuffed already, we still managed to finish it all.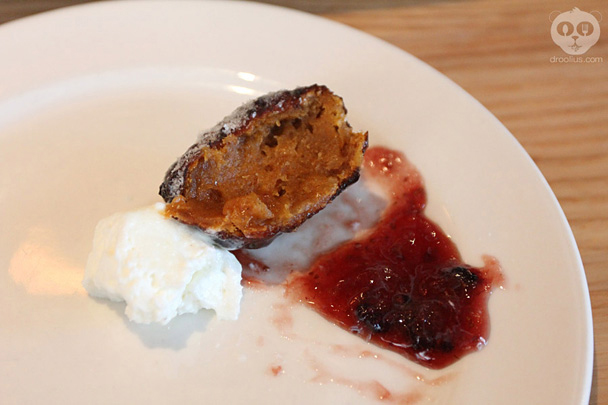 (click image to enlarge)
Inside look of the Pumpkin Beignet… so good with the strawberry preserve and whipped cream.
(click image to enlarge)
The interior of Yardbird is very welcoming, with some industrial rustic features, it still feels modern with a southern flare. The staff is friendly and our server Evelyn was great. Chef Jeff McInnis stopped by the table as well and all I could do is compliment on the great tasting food and good experience. Yardbird's use of fresh ingredients and care for products really shines in the food. Everything was savory and well balanced, you can see and taste the level of thoughtfulness and creativity in each dish served.
(click image to enlarge)
I think I am guilty of what this photo says, "Don't talk with your mouth full." Although it wasn't exactly talking, the food at Yardbird had me commenting on how great each dish tasted while I was eating. While I don't like to over hype any restaurant on this blog, I think you can see that the photos and my reactions speak for the food themselves. Definitely worth a stop any time you are in Miami or planning a trip to South Beach. Make sure to make reservations for brunch or dinner, this place does get packed, especially on the weekends. Regardless it is worth the wait, so stop by for a taste of their Southern Bar while you wait for a table.
Thanks Yardbird for making me talk with my mouth full. I will be back!
Yardbird Southern Table & Bar
1600 Lenox Avenue
Miami Beach, FL 33139
305-538-5220
www.runchickenrun.com
Facebook Page
Twitter @Yardbird

Words and photos by Julius Mayo Jr.
Content and photos © Droolius.com 2012