Happy National Donut Day! On this food holiday I usually celebrate by spending the day eating donuts at different locations, looking for that donut with balanced sweetness and perfect texture. This year I decided to switch things up a little. Instead of the typical sweet donuts, I celebrated with something more savory: the Everything Sushi Donut from Poke Burri in Atlanta, GA.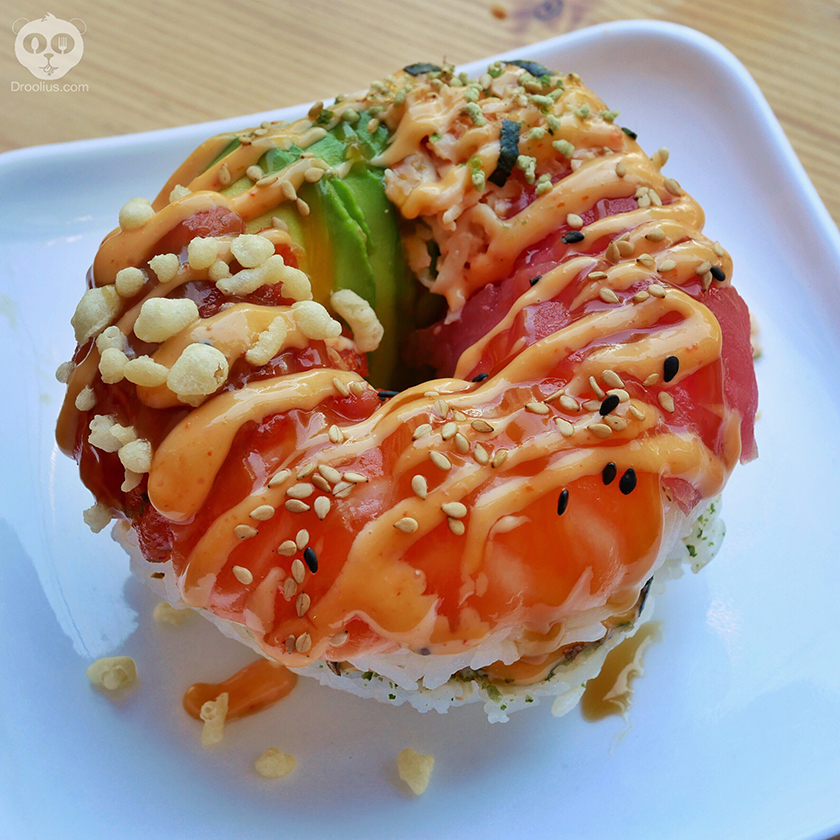 Another angle of Everything Sushi Donut from Poke Burri in Atlanta, GA (I couldn't decide which angle I liked better)
While this sushi donut is not actually a standard fried or baked donut, it is in the shape of a donut. That counts, right? It's a unique food item that's currently trending in the food space. Poke Burri's Everything Sushi Donut starts with a bed of sushi rice shaped with a donut mold, with a layer of sushi, seaweed and sauces in the middle and on top. A few more toppings include avocado, sesame seeds and other crispy bits that add both flavor and texture. The sushi donut is packed with quality sushi grade fish and their sauces are on point. Overall it's cohesive in flavor and the ingredients work well with each other. Definitely worth the trip and trying this sushi donut. It was a nice change up for the typical donut day celebration.
Poke Burri
479 Flat Shoals Ave SE
Atlanta, GA 30316
Earlier in the morning...
I actually did start my morning by waiting in line at Revolution Doughnuts for some donuts to celebrate with. It was their 5th anniversary and they were giving away a special mini donut with a candle. You can see the action below in the Instagram video. I bought several donuts to share with Lady Droolius and we enjoyed them all. This box of donuts was from their newest location in Atlanta in Inman Park. The original location is in Decatur, GA.

droolius Earlier this morning I celebrated #NationalDonutDay with doughnuts from @revolutiondoughnuts #Atlanta as they were celebrating their 5th birthday today. What an awesome day to open! 🎉 #DrooliusDonuts #DrooliusAtlanta #DonutDrool…
Revolution Doughnuts
745 Edgewood Ave. NE
Atlanta, GA 30307

Where's your favorite donut from? Let me know in the comments below…

Words & photos by Julius Mayo Jr.
Content and photos © Droolius.com 2017

Disclaimer: I was invited as media to Poke Burri to try their menu items. I was not compensated to write this post and all opinions are always my own.