Getting to the Orlando International Airport early to check-in before a flight is normally something I do not do well. The main reason: if I go too early, I'm left with only a choice of chain restaurant dining options, which is something I try to avoid. I like to feel like I'm starting my trip with a good meal if I'm eating at the airport and I'm sure many other travelers are looking for a good place to eat before or after a flight into Orlando. The good news is that McCoy's Bar & Grill at the Hyatt Regency is located at the Main Terminal of the airport and is the place that serves quality food and keeps the travelers' limited time in mind.
(click image to enlarge)
McCoy's originally opened in 1992 and has revamped the interior earlier this year. The large space feels contemporary and has a relaxing atmosphere to dine in and get away from the airport's hustle and bustle. The restaurant can accommodate solo travelers, families, small to large groups, and is complete with seating at the new sushi bar featured in the center of the dining space.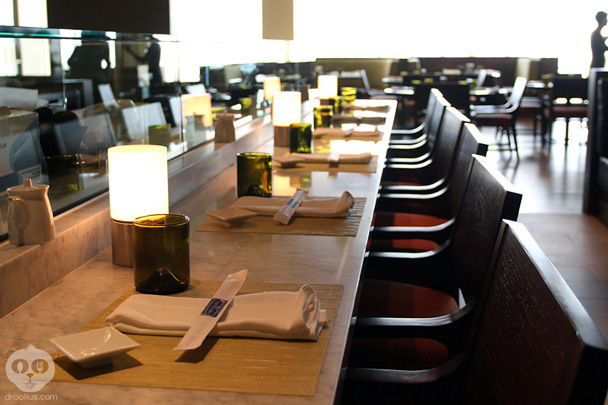 (click image to enlarge)
Featuring the only sushi bar at Orlando International Airport, sushi is served from 5pm to 11pm. I know you may think big deal, it's sushi at the airport, but there is quality sushi here with an experienced Japanese sushi chef making it. More to see below…
(click image to enlarge)
The menu at McCoy's features a number of items that include small plates, sandwiches, salads, soups, flatbreads, and entrees. While they have updated the menu, they kept some popular items like the Cuban Sandwich and the Crawfish Chowder, a McCoy's specialty for 20 years.
The kitchen tries to use as many local ingredients as possible, trying to keep it within a certain distance of the airport. I've heard a lot of restaurants throw around the term "local ingredients" or "farm to table", but Executive Chef David Didzunas explained which farms they are working within the area to source the best products they can get in the different seasons. While they cannot source everything local, they do try as much as they can. Chef David said that most of the ingredients from that day's tasting were within 100 miles or so of the airport. It was very interesting to learn about the products sourced from the farms and you can see it listed in the menu. Some products include heritage pork from Palmetto Creek Farms in Avon Park, eggs and chickens from Lake Meadows Naturals farm in Ocoee, and hydroponic greens from an organic hydroponic farm in Ocala, FL.
I was invited to a media event to do a tasting, so the following photos include some plates that are the actual serving size, while the others are for sharing purposes of the tasting.
(click image to enlarge)
Photos above and below are the MCO Traveler's Trio where you can mix or match three small plates to create your own combination. Some of the plates we sampled were Pork Carnitas Tacos, Quesadilla, Shrimp cocktail, Lemon Hummus, and some seasonal creations. My favorite plate was the Pork Carnitas Tacos – palmetto creek farm pork braised with sour orange, shredded lettuce, pico, crema, white corn tortilla (above, middle).
(click image to enlarge)
These Trios are a good way to try a few dishes if you can't decide and they are easy to share. All of the plates tasted great, with fresh flavors and far better than the typical restaurants found in terminals. I was pleased to taste real quality food at the airport! The plates offered can change seasonally, but they do have most of them available year round.



(click image to enlarge)
Next up we tried a few items from the sushi bar. Sushi Chef, Hiro Masaki, came out and explained some of the dishes that he prepared. He's been at the McCoy's sushi bar for 5 years and he is now featured in the center of the restaurant. All I can say is he uses quality sushi grade fish and his technique is on point. The sushi not only tasted good, but it was great to look at too.
Sushi Bar hours are 5-11pm.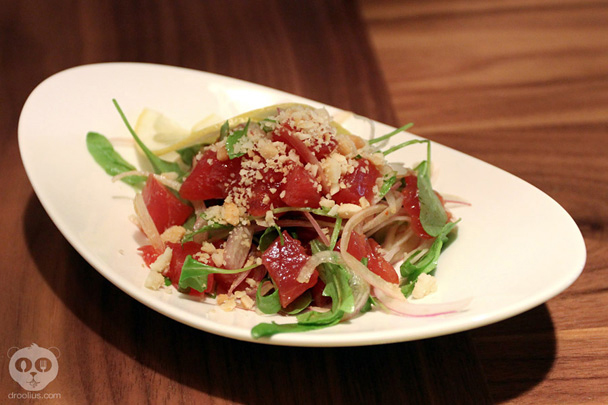 (click image to enlarge)
Tuna Hawaiian – tuna, sliced onion, macadamia nuts, chili sauce, sesame oil
This was a great appetizer using quality sashimi grade tuna that was creamy and soft in texture.
(click image to enlarge)
Tempura Appetizers
(click image to enlarge)
(top) Spider Roll – fried soft shell crab, asparagus, cucumber, avocado, flying fish roe & spicy aioli
(bottom) Dancing Dragon – crab salad, avocado, cucumber, grilled eel on top
(click image to enlarge)
International Roll – canadian lobster salad, seared tuna, salmon roe, teriyaki glaze, spicy aioli & wasabi bleu sauce
I liked all of the sushi that was served and I can say it passes the Droolius sushi quality test.


Next up is the sandwiches and salads, then closing with some dessert…
(click image to enlarge)
Cuban authentic style, turkey, ham, pork, pepper jack cheese, mojo & plantain chips
The Cuban sandwich was cut into several pieces for our group to try. It was a hearty sandwich with good cuts of meat on a nicely pressed bread. I'm not a Cuban sandwich expert, but this was better than some I've had in the area.
(click image to enlarge)
Palmetto Creek Farms Barbecued Pulled Pork Avon Park, FL, onion strings, sweet potato chips & cole slaw
For the tasting, these were samples of the the actual sandwich, which is larger in size. The sandwich is using pork from a farm just south of Orlando, FL and it was a good tasting sandwich.
(click image to enlarge)
Shrimp Mojito – mixed local lettuce, Canaveral royal red shrimp, fresh orange sections, mango, spiced pecan, mojito vinaigrette
The salad was light and refreshing, using local shrimp and local lettuce.
(click image to enlarge)
The mixed local lettuce was from an organic hydroponic farm in Ocala, FL and is the only organic hydroponic certified farm in the U.S. The staff brought out some of the lettuce so we could take a closer look.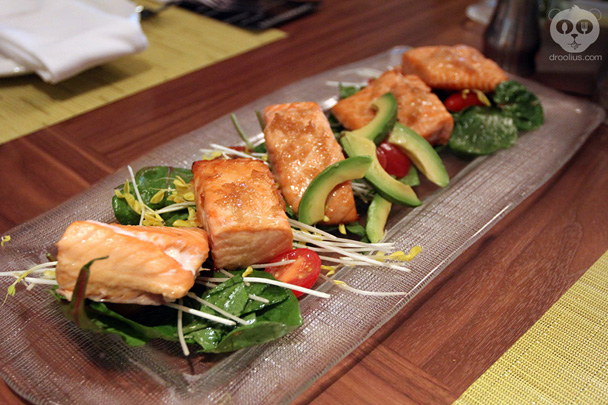 (click image to enlarge)
Loch Duart Salmon roasted, dijon ginger glaze, florida grown bordeaux spinach, bacon, avocado, tomato & citrus vinaigrette.
(click image to enlarge)
Housemade ice cream
The ice cream is made in its own unique process and are all made inside the kitchen. There was a whole array of flavors that day, which can all change depending on season and availability of fruits and products. We were all happy with the variety of ice that we sampled, each one with a punch of flavor. Some raved about the chocolate, while I really liked the mango which tasted like the real fruit.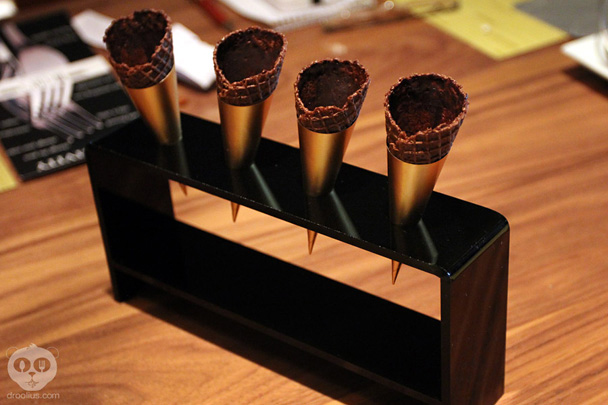 (click image to enlarge)
These mini cones are part of a sample that they offer when you want to sample a variety of ice creams.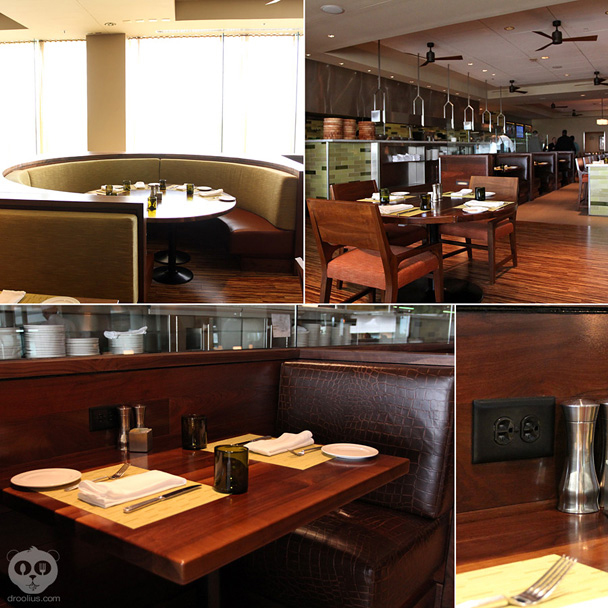 (click image to enlarge)
McCoy's features an open kitchen, complimentary Wi-Fi, HD flat panel televisions with seating at the bar, and private dining booths that include outlets for charging and plugging in electronics. The bar is stocked with wines by the glass, along with draft and bottled beers. The staff says about one hour is recommended at minimum to dine at the restaurant. The restaurant and kitchen staff are trained to be up to handle customers coming in for a meal and moving along with their day. The restaurant is not only for travelers, but for locals too. The staff says that they have many Orlando locals who have frequented the restaurant over the years and are the reason why some of the menu remains the same and consistent.
After this tasting event, McCoy's Bar & Grill has now given me a reason to arrive at the airport early to check-in and enjoy a meal. The restaurants atmosphere seems like it would make the airport visit more tolerable and can give travelers a place to unwind a little, both before and after a flight. I look forward to going back and to taste some more of the menu.


McCoy's Bar & Grill
Hyatt Regency Orlando International Airport, Main Terminal, East Hall,
9300 Airport Boulevard, Orlando, FL 32827
(407) 825-1234
http://orlandoairport.hyatt.com

Words and photos by Julius Mayo Jr.
Content and photos © Droolius.com 2012





Disclaimer: I was given the opportunity to attend this media tasting event. I was not compensated to write this post and all opinions are always my own.