Simon Majumdar, author and world-renowned broadcaster, is making a stop at the East End Market in Orlando, FL as part of his "Fed, White, And Blue" Book Tour across the U.S. If you're a fan of watching Cutthroat Kitchen, Iron Chef America, or the Next Iron Chef, then you will recognize Simon Majumdar as one of the mainstay judges for these Food Network television shows. Simon is currently on a nationwide tour promoting his new book "FED, WHITE, and BLUE: Feeding America with My Fork" and Bookmark It bookstore at East End Market will be hosting his visit.
Join Simon this Thursday, May 7, for a presentation at 7 p.m. where he will be speaking about his new book and signing copies, which are available for purchase from Bookmark It. In addition to this event, a special "Pop Up Potluck" dinner will take place from 6 – 7 p.m. before his presentation. Bring a dish to share, mingle with Simon, and have him taste your food! The event will take place in the Apex (on the second floor) of the East End Market. This is a FREE event and open to the public.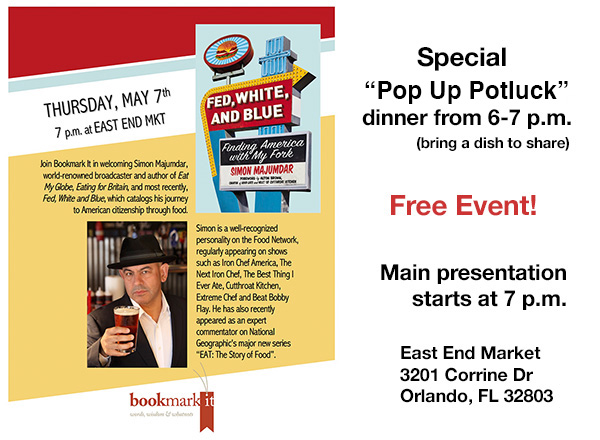 (click image to enlarge)
Event Details
Who: Simon Majumdar
What: "Fed, White, And Blue" Book Tour
When: "Pop Up Potluck" dinner at 6 p.m. and Main presentation starts 7 p.m.
Where: APEX at East End Market, 3201 Corrine Drive, Orlando, FL

Find all of the event information on the Facebook Event Page.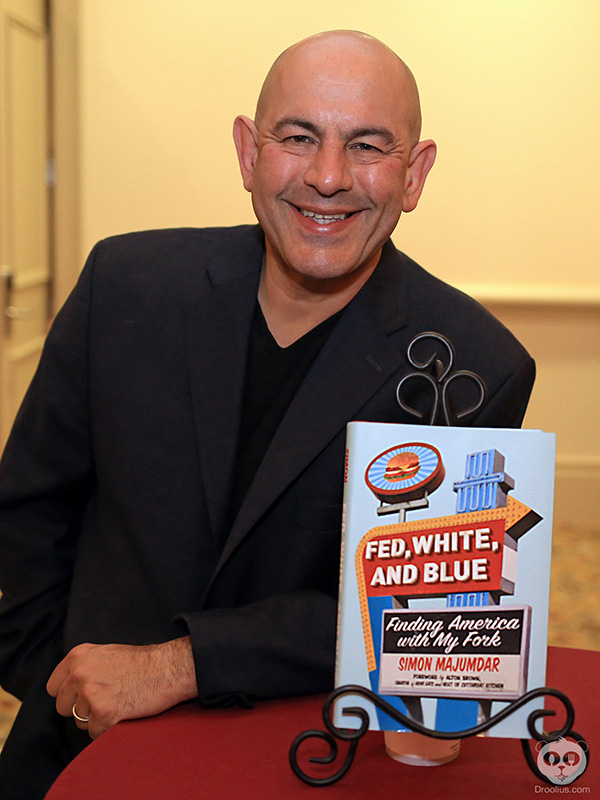 (click image to enlarge)
Simon Majumdar recently participated in Florida Hospital's Gourmet Soiree at Rosen Shingle Creek in Orlando, FL

Keep up with Simon Mujumdar on his social media channels:
Twitter: @SimonMajumdar
Facebook: Facebook.com/SimonMajumdarPage
website: www.simonmajumdar.com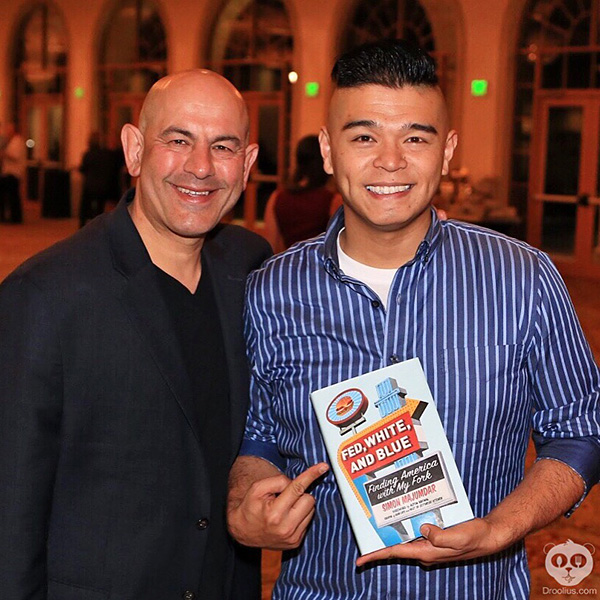 Hanging out with Simon at Gourmet Soiree
Simon is a great person and loves to talk about food. Our chats revolve around world travels and Filipino cuisine! I met him at World Food Championship back in 2013 and we've been talking about food ever since. This is an awesome opportunity for fans in Orlando to meet him and grab his new book. See you all at East End Market!

Words and photos by Julius Mayo Jr.
Content and photos © Droolius.com 2015