With Mardi Gras coming to a close this past Tuesday, crawfish season is only at it's mid point during the month of March. You do not need to be in New Orleans or Louisiana to your get your crawfish fix, because in Orlando, FL the New Orleans Cajun Seafood restaurant serves crawfish to satisfy your big easy craving.
(click image to enlarge)
Crawfish is a seafood item that is very popular, with many restaurants (especially on the West coast) having lines of customers waiting to get their grub on. Luckily in Orlando, the crawfish craze has not gone overboard and you can easily go in and sit down for a nice meal. After doing research online and asking a few friends, my food partner OD and I decided to try New Orleans Cajun Seafood located West Colonial Drive. We went here specifically for the crawfish so only photos of what we ordered will be posted and covered in this blog post. The restaurant does offer a menu of seafood items like boiled shrimp, crab legs, and whole crab, along with New Orleans' favorites like po boy sandwiches.
New Orleans Cajun Seafood serves up some crawfish in some mighty tasty Cajun seasoning and garlic butter combinations. We ordered the Crawfish Special that consists of 2 pounds of crawfish with one piece of potato and corn each, in a combination of both the Cajun and garlic flavors. We also added an additional piece of corn and a side of rice. You place an order at the counter and your food is served at your seat. Any additional requests can be made while seated, which is convenient after you have started your meal.
(click image to enlarge)
Crawfish Special: 2 pounds of crawfish with one potato, one corn
After opening the container, you get hit with the wonderful aroma of garlic and spices as they come steaming up from the crawfish. There was an ample amount of garlic and Cajun seasoning atop the crawfish, which were swimming in garlic butter. It was wonderful sight and smell experience. Following the mini photoshoot of our food, we started to dig in and got the taste of the nicely boiled crawfish which was accented well with all of the seasonings and ingredients combined.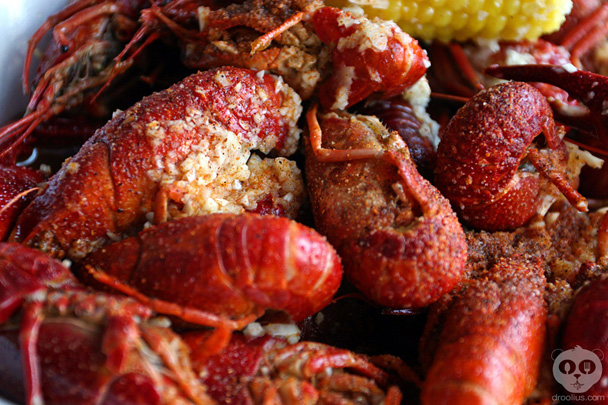 (click image to enlarge)
The combination of both Cajun spices and garlic really works well with the crawfish. I really love garlic and as you can see above, minced garlic is just covering the crawfish along with the spices. The spice level I would say is around a "medium to hot" heat, which lingers nicely through out the meal, but does not burn your lips and mouth. Together it makes the crawfish enjoyable to eat.
Later in the meal I ordered a Heineken beer and to my surprise it brought out a sweetness in the crawfish, something that I did not taste before. A nice little discovery to pair the beer and crawfish together to bring out some more flavors.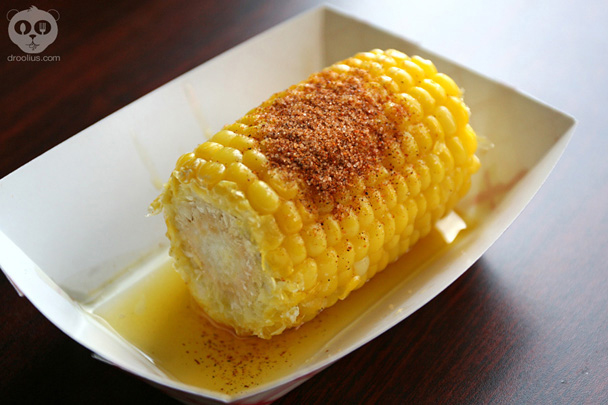 (click image to enlarge)
The side of corn was laying in some melted butter and topped with a sprinkle of seasoning. Spin that around to combine the butter and spices and dunk it in the crawfish garlic cajun bath, you have a piece of corn that sings with flavor. We actually cut open the potato and left it together with the corn, soaking in the container of crawfish to absorb all the flavors. We just had to have the sides absorb all the flavors and not waste the Cajun garlic butter sauce.
(click image to enlarge)
The crawfish at New Orleans Cajun Seafood overall was pretty good with the combination of Cajun and garlic butter sauces. The sides of potato and corn were cooked well and was a great addition to be included with 2 pounds of crawfish in the Crawfish Special for only $10.50 + tax. Although I have had tastier variations of Crawfish in Louisiana and California restaurants, this is a good meal for a great price in Orlando.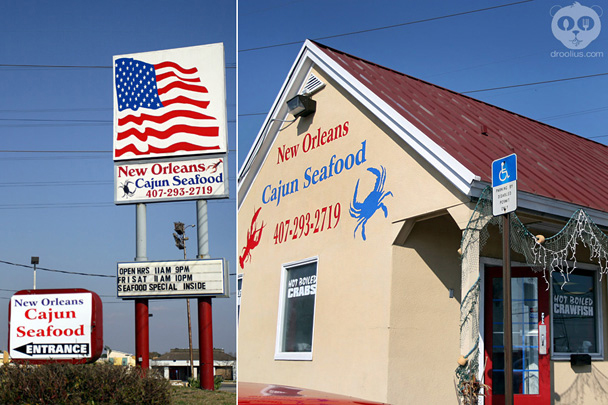 (click image to enlarge)
Look for the large sign with the American flag on W. Colonial Drive, near the intersection of Kirkman Road. The New Orleans Cajun Seafood restaurant is a small building with seating both inside and outside. It is a simple restaurant with all of the necessities of eating crawfish and seafood.
New Orleans Cajun Seafood
5503 W Colonial Dr
Orlando, FL 32808
407.293.2719
Words and photos by Julius Mayo Jr.
All content and photos © Droolius.com 2011