For the February Foodspotting Eatup, we decided to go off the beaten path of Orlando restaurants and explore the Latin food trucks located on South Orange Blossom Trail. These food trucks have been here for years and are more on the underground scene, outside of the popularity of the Orlando food trucks and mainstream events. The food trucks on South OBT are more of an extension of a country's late night food culture, rather than just good food. These food trucks are often open later in the evening from around 7:30 p.m. until about 4 a.m. on weekends. The prime time to go is around 11p.m. and the crowds definitely pile in from what I've seen in the past. However, for this month's Foodspotting Eatup we met up early at 7:30 p.m. to enjoy the food and avoid the crowds. Plus it was cold that evening and waiting in line and eating outdoors was a little frigid for us Floridians.
Our plan was to hit up 4 food trucks on this Food Truck Crawl… here's how it went: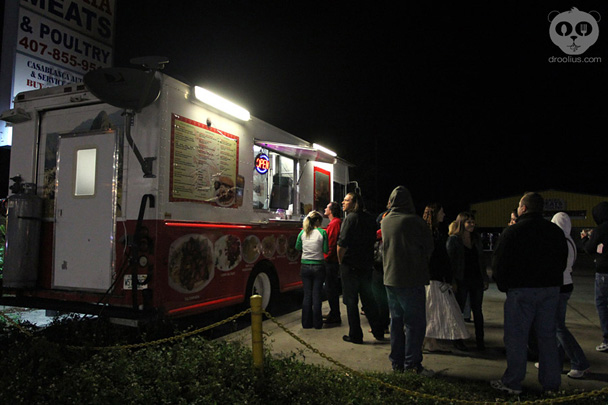 (click image to enlarge)
First stop – Las 4 Estaciones (Peruvian food truck)
They have a number of Peruvian cuisine on the menu. Peruvian burgers, Anticuchos, chicken sandwiches, empanadas, ceviche and more. Our first stop was all about the sandwiches and burgers. Many first timers at the food trucks on South OBT and from everyones' reactions I'd say they all enjoyed this first truck. (Some even like it so much they came back for a burger to take home!)
(click image to enlarge)
Sandwich de lomo – steak sandwich with onions and potatoes
This was a hearty start to the evening, I ate half of this sandwich and shared my other half.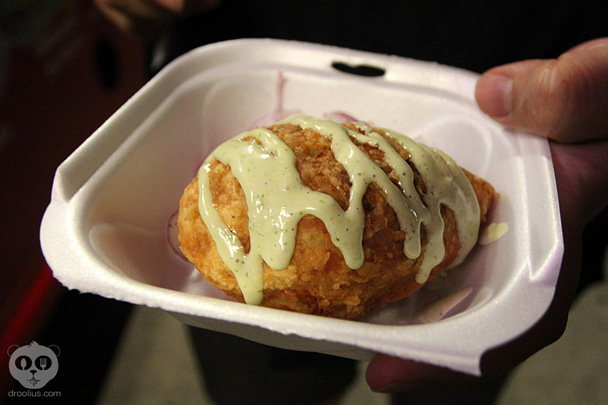 (click image to enlarge)
Papa rellena – stuffed potato w/ a housemade garlic mayo sauce on top.
This was ordered by blogger EatLocalOrlando, who inspired this month's Eatup from last year's Latin Food Truck Crawl he invited me to.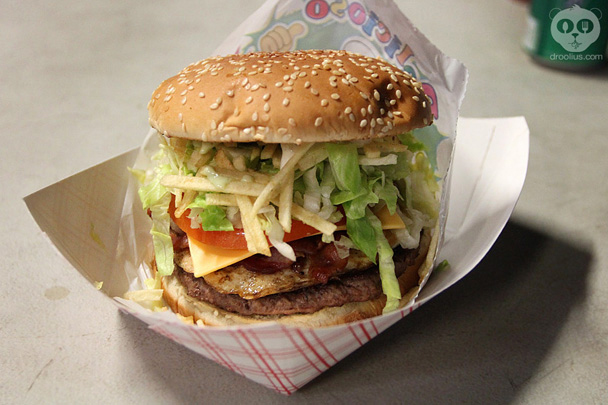 (click image to enlarge)
Hamburguesa "Las 4 Estaciones" – burger, cheese, fried egg, bacon, lettuce, potato sticks
This was the most ordered items of the evening. The happy noises people were making were a good sign that they really enjoyed this burger.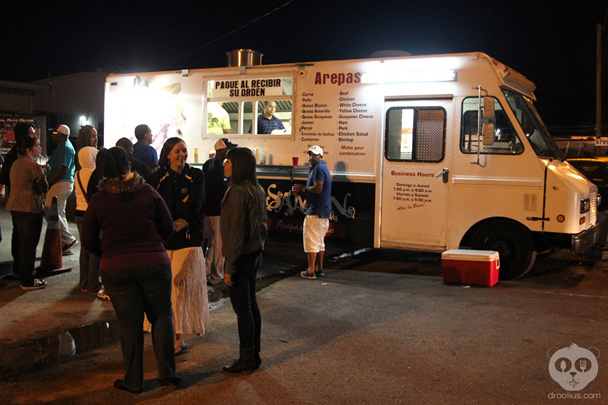 (click image to enlarge)
Second stop – Arepas El Gran Saman (Venezuelan food truck)
This stop was all about the Venezuelan Arepas. I'd say half of our group shared an arepa and the other half ate one themselves (like I did). You have an ample selection of ingredients, ranging from different meats, seafood, and cheeses, then topping it off with sauces yourself. These come out fast and piping hot.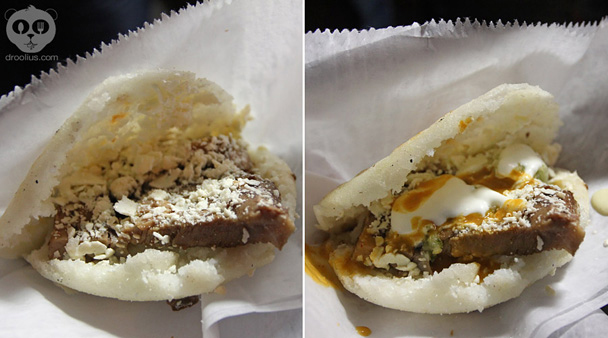 (click image to enlarge)
Arepa w/ Pernil y Queso Blanco – Arepa filled with roast pork and white cheese
This was really tasty with the pork and cheese combo, I've had this a few times in the past. Good flavor in all the different types of meat they offer and combinations are endless. The right photo shows all the sauces I put on top, not necessary but more flavor is always good. I really like the garlic mayo (white) and spicy sauce (red).
(click image to enlarge)
Third stop – Dominican Chimi
This truck serves Dominican Chimis, Pinchos, and sandwiches. A portion of the group ordered the Chimis, a meat sandwich filled with a hamburger style patty with veggies and sauces. The others in the group (including myself) ordered Pinchos, which are meat on skewer served with bread and the choice of chicken or pork.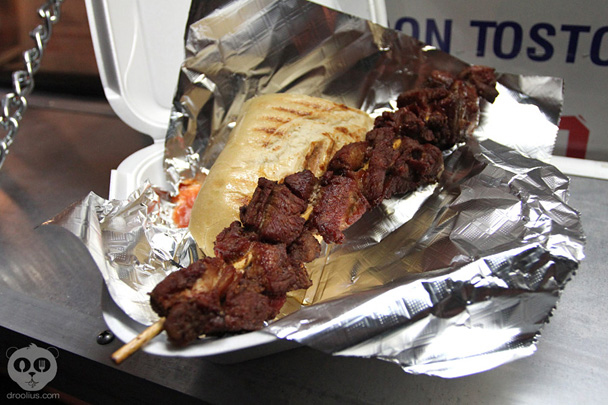 (click image to enlarge)
Pinchos de cerdo (pork skewer)
This pinchos de cerdo looks a little different from what I've had in the past. Normally it is grilled, but this time it looks like it could have been fried? I'm not really sure, regardless it was tasty meat on a stick that even Anthony Bourdain would have enjoyed. This is where Bourdain should come since he enjoys street food, food trucks of South OBT!
A number of people were too full to move on to the next truck, so they decided to go home. They all said they enjoyed this Eatup and the experience of the Latin food trucks. On the walk back to the cars, they even stopped for some burgers to go.
(click image to enlarge)
Pit stop – Tacos Del Rio for piña coladas & tequila flan
The parking lot where Dominican Chimis parked was in a plaza with Tacos Del Rio. Since some of the group was craving sweets, we decided to stop in. I ordered the Tequila Flan (pictured above) and it was really good. It had a good creamy flan texture and the flavor of sweetened tequila. I can definitely go back for this again.
(click image to enlarge)
Last stop – La Tripleta Subs & More (Puerto Rican)
By this stop we were all too full and the weather was only getting colder. We decided to call it a night and come back another time for the Tripleta sandwiches. The few of us remaining have had them before so we'll just have to get another group together to explore again.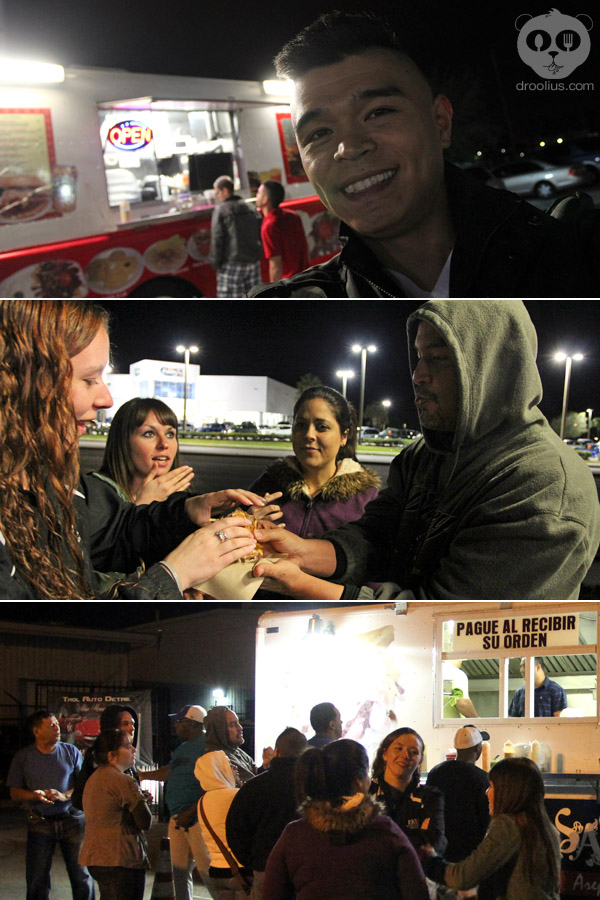 (click image to enlarge)
The Eatup was a great time and we brought together some new Foodspotters and some food truck newbies. Everyone enjoyed the food and had a pleasant experience. Thanks to everyone for coming out and being adventurous for the evening. If anyone else wants to explore more of the South OBT Latin food trucks, let me know via Twitter, Facebook page, or leave a comment below. There's much more Latin cuisine to be explored and to be added to Foodspotting!
 
Words and photos by Julius Mayo Jr.
Content and photos © Droolius.com 2012


Foodspotting
www.foodspotting.com
Follow @Foodspotting
Like Facebook.com/Foodspotting
Foodspotting is a website and free app for the iPhone, Android and soon BlackBerry, that helps you find good food wherever you are. Search for what you crave and make recommendations simply by snapping a pic of your favorite dishes. Download the app from http://foodspotting.com/apps