On the opening day of the 2012 Epcot Food & Wine Festival, I attended a media event hosted by Ocean Spray. We were able to sample some food and cocktails using fresh cranberries and cranberry products. Later in the evening we were able to actually get into the cranberry bog and experience it.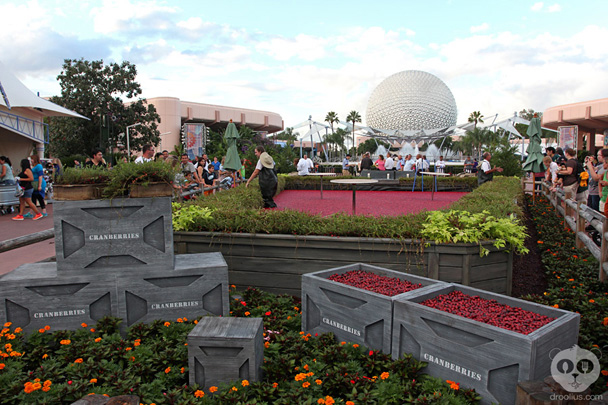 (click image to enlarge)
Visitors to Epcot pass Ocean Spray's Cranberry Bog, both walking in and out of Epcot's World Showcase. A great location for photos beside the bog. I was joined by fellow blogger Brian from Centralfloridatop5.com and we were both snapping photos and tweeting live from the event.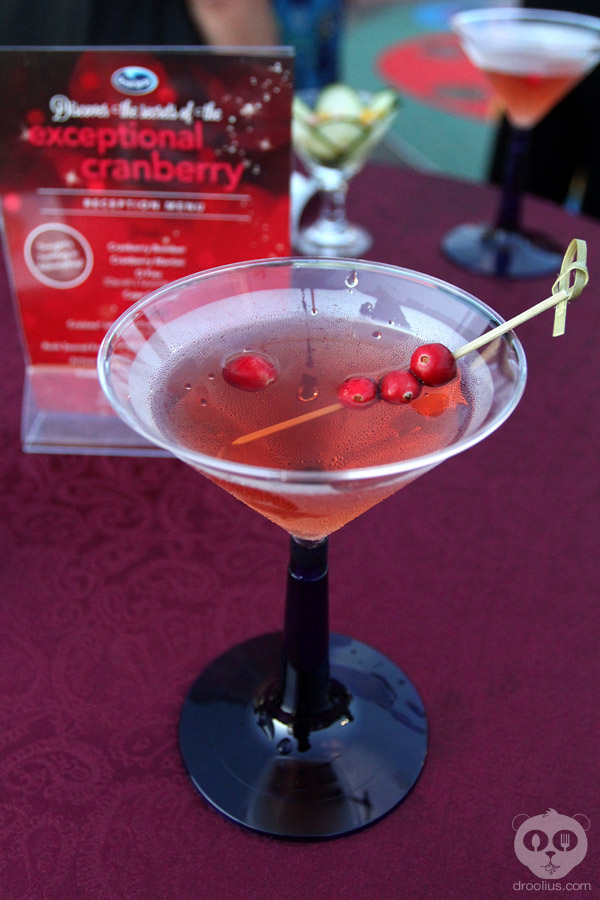 (click image to enlarge)
We first started out with a few cocktails featuring cranberry juice along with fresh cranberries as a garnish.
There was a spread of several plates that highlighted various uses of the cranberry. All were very unique with complimenting flavor combinations. The use of the cranberries gave each dish a touch of sweetness or tartness, also giving the savory food balance. My favorite was probably the Craisin Infused Five Spiced Char Kobe Beef with Fire Roasted Corn seen below.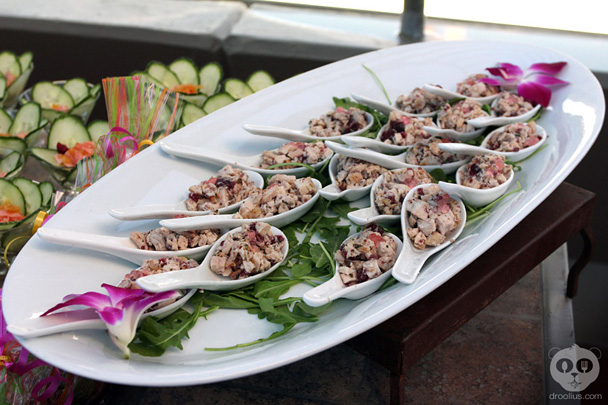 (click image to enlarge)
Rock Seared Free Range Chicken w/ Craisin Vodka Caviar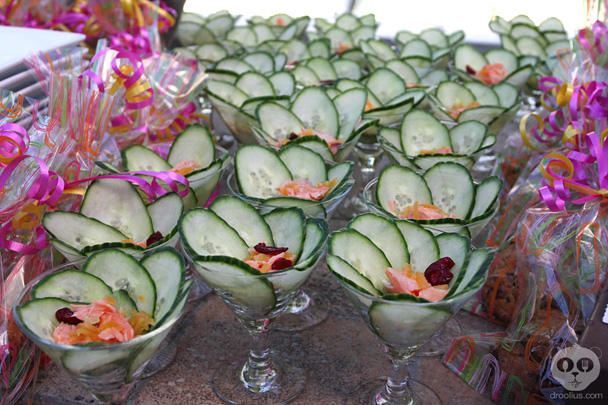 (click image to enlarge)
Cranberry and Sea Salt Cured Wild Salmon with Citrus Sugar Crystals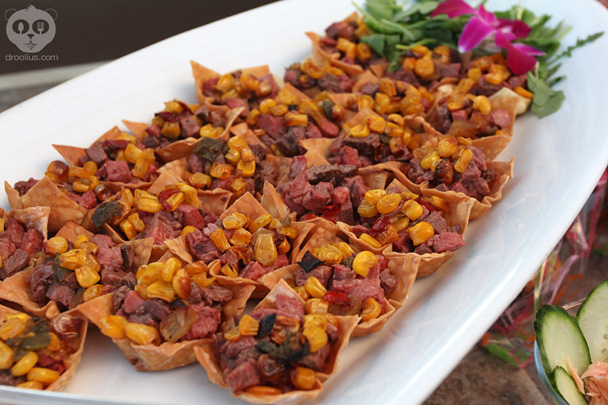 (click image to enlarge)
Craisin Infused Five Spiced Char Kobe Beef with Fire Roasted Corn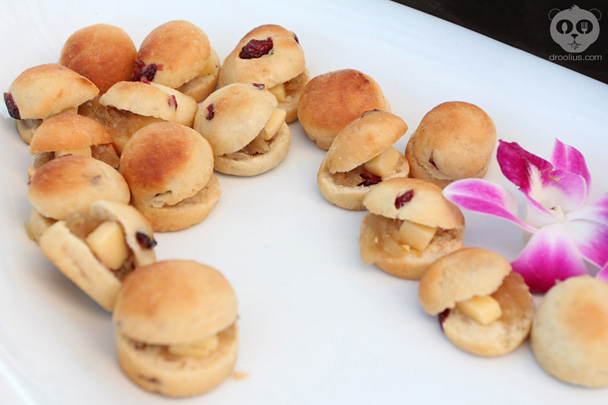 (click image to enlarge)
Artisan Cheese Stuffed Mini Craisin Brioche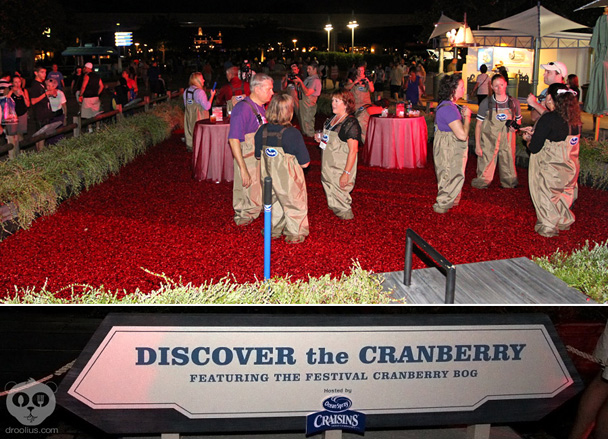 (click image to enlarge)
Next, it was time to get our chest waders on and get into the Cranberry Bog!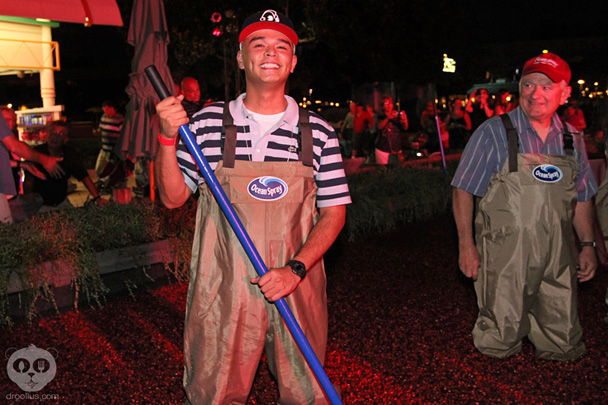 (click image to enlarge)
@JeffHouck tweets: "@Droolius You rock a set of chest waders like nobody's bidness. Don't let anyone tell you any different."
Here I am in full Ocean Spray wader gear. It was actually a lot of fun wading through the water and cranberries. Once we were in, no one wanted to get out.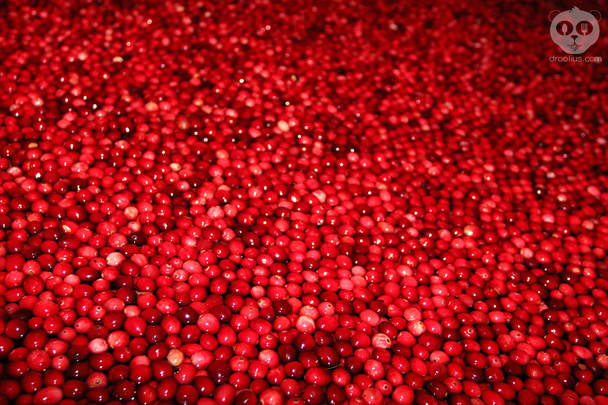 (click image to enlarge)
On Twitter, @OceanSprayInc sent out a tweet about cranberry harvest: "Our first secret: to harvest cranberries, growers flood bogs w/ water and air chambers inside of the berries cause them to float to the top."
(click image to enlarge)
I spent a few minutes talking with Cranberry Grower, Peter. Peter is from Bayside Agriculture in Massachusetts and he is growing cranberries on a 200 acres farm. He also says they have a grapefruit farm in Vero Beach, FL. Peter explains they are trying to produce products that use only the natural sugars of the cranberries and trying to lessen any added extra sugars. I grew up drinking cranberry juice as a kid and this is great to know because added sugars are a concern for children's diets.
I told Peter one of my current favorite snacks was combining Ocean Spray Craisins (dried cranberries) with almond slivers and together it tastes like "peanut butter and jelly". He said that's the first he's heard of that combination, but it sounds like a good idea. Anyone else eat Craisins and almonds or cashews together? If not, you should try it!
The Cranberry Bog was a great and memorable experience, one of the best I've had at Epcot Food & Wine Festival. This was a media special event, so I'm sad to say that it is not a part of the festival that the attendees can participate in. However, you have this post to see what it was all about. Check out the Twitter hashtag #DisneyBog for more on this event.
For more tasty cranberry secrets and recipes, visit:
www.oceanspray.com
Facebook.com/OceanSpray
@OceanSprayInc on Twitter
Epcot – World Showcase
Walt Disney World Resort
Orlando, FL

Words and photos by Julius Mayo Jr.
Content and photos © Droolius.com 2012