The 2012 Epcot Food & Wine Festival is kicking off to a great start this year with new dishes, marketplaces, and a few twists to some favorite dishes. I attended the opening weekend and I was excited to try what was new. There were a few changes to some of the marketplace locations from the past, but to better accommodate the large crowds from what I saw. Being the opening weekend, it was crowded and I only made it a little over half way around the world showcase. I'm posting photos and information on some of the new dishes that I tried so far this year, along with other things new at the festival.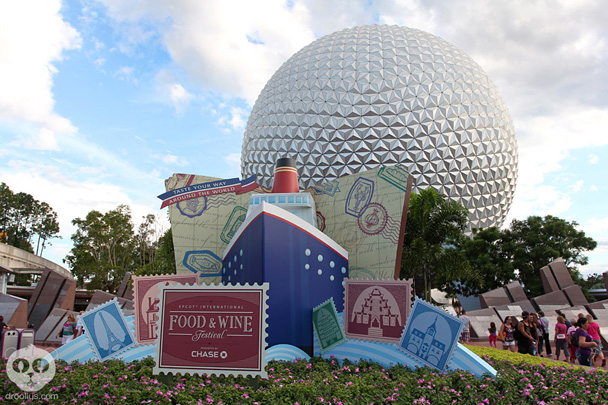 (click image to enlarge)
The new title sponsor for this year is Chase, which has a private Chase Lounge for Disney Visa Card members and Chase Card holders. If you hold one of these, make sure to stop by the lounge for a relaxing environment with couches, Coca-Cola fountain drinks, coffee, or water. I do not hold either card, but I got to go in as media that day. It's a nice break from the busy festival, especially when it's hot out. It's located inside the Festival Center, towards the back near the Ghiradelli chocolate experience.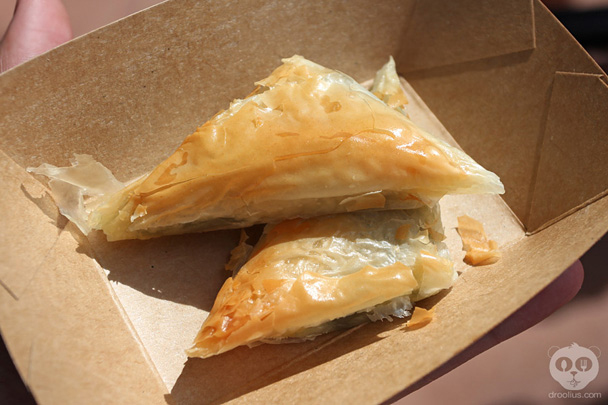 (click image to enlarge)
Greece – Spanakopita
While the Spanakopita is not new to the festival, it is served in two pieces instead of just one big piece. This is a classic plate that I usually start off with every year. I'm not sure if the two Spanakopitas per plate is new to the festival, but it is new to me. The reason why two pieces are better than one is because it's way easier to share. In the past, cutting in half creates a mess, and so does taking bites while passing it back and forth. This is a much better way to share and enjoy the savory cheese and spinach, with the crisp buttery and flaky layers breaking in each bite.
(click image to enlarge)
Canada – "Le Cellier" Wild Mushroom Beef Filet Mignon with Truffle Butter Sauce
New Dish: This may be one of my new favorites for this year's festival and I hear many people saying the same thing. The tender Filet Mignon, cooked to about medium or medium well, is easy to cut through and has loads of savory flavor. The wild mushrooms accent the steak with earthiness and the truffle butter sauce brings it home all together. Even my food partner OD enjoyed the mushrooms, which is a first! Must have been that great Truffle Butter Sauce.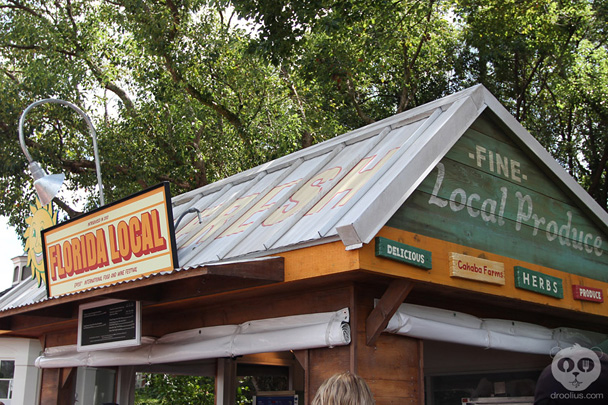 (click image to enlarge)
Florida Local Marketplace
This is a new addition for the festival this year. The Florida Local Marketplace introduces fresh twists on regional flavor samplings, including a zesty Shrimp Ceviche with Fire Roasted Vegetables, Fried Plantains and Cilantro. White Corn Arepa with Mangalitsa Pork Rilette and Zellwood Sweet Corn Salad.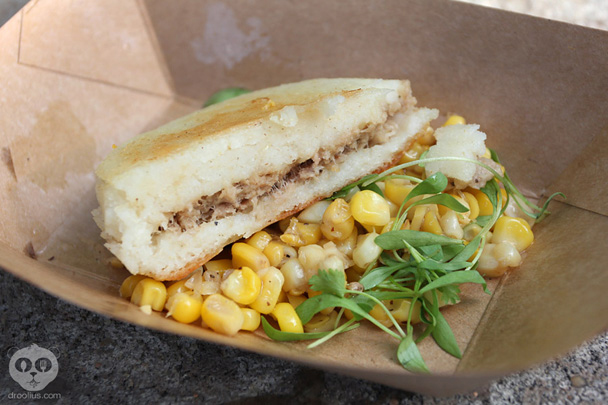 (click image to enlarge)
Florida Local – White Corn Arepa with Mangalitsa Pork Rillette and Zellwood Sweet Corn Salad
New Dish: I'm a fan of Arepas, especially when you stuff it with savory pork. The arepa had a nice crisp outside, while the inside was soft and fluffy. The tasty combination of the arepa & pork rillette was complimented with fresh and sweet notes of the local corn.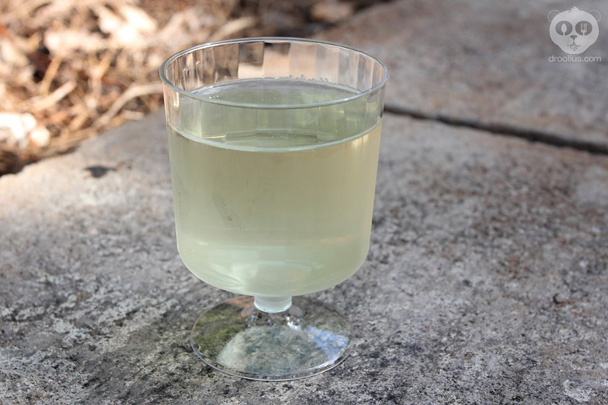 (click image to enlarge)
Florida Local – Florida Orange Grove Key Limen
New Wine: A wine made from Florida Key Limes was an unexpected discovery at the festival for me, but a good one. The wine was bright, with a touch of sweetness and a hint of key lime at the end. It may not be a wine snobs, but there's a place for it, especially for new wine drinkers. I liked it and it's worth a try.
(click image to enlarge)
Belgium – Steamed Mussels in Hoegaarden Beer Broth and Baguette
New Dish: In the past the mussels were served with a garlic cream sauce. This year the dish is made with a broth using Hoegaarden Beer, bringing out more natural flavors of the mussels and it's a little bit lighter than the heavier cream sauce in the past.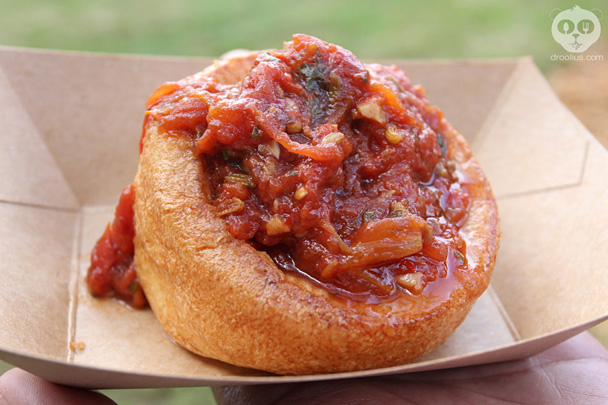 (click image to enlarge)
New Zeland – Lamb Meatball with Spicy Tomato Chutney
New Twist: This is another dish that has been remixed a little. The lamb meatball used to be served as a slider, but now it is inside of a baked pastry and topped with a similar tomato chutney. Just as tasty as before, but served in a different way.
(click image to enlarge)
New Zeland – Lamb Meatball with Spicy Tomato Chutney (interior of meatball)
I sliced open the top so the the meatball is viewable. It was a little more moist and juicy, so it may be a reason why it's inside of the pastry. The major difference is eating this with a fork and knife, which you need to sit down for.



Media Event
I attended a small media reception that featured some of the new items of the festival. We got a chance to meet with other media, Disney staff, and Chefs as well.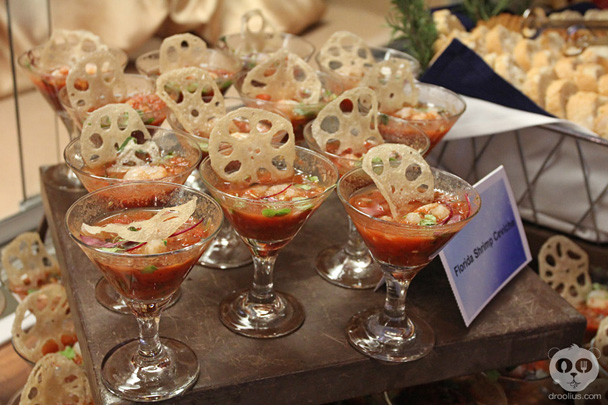 (click image to enlarge)
Florida Local – Florida Shrimp Ceviche with Fire Roasted Vegetables, and Cilantro
New Dish: For the festival, this dish usually comes out with Fried Plantains in a paper boat, but this is a more jazzed up version in a mini martini glass. I'm not the biggest shrimp fan, but this ceviche was pretty good with it's roasted vegetables and had an enjoyable kick of spice.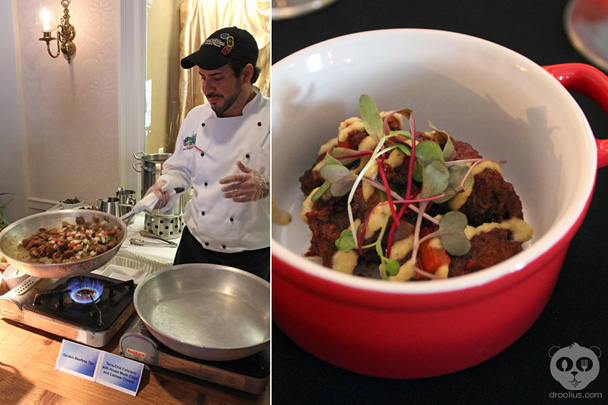 (click image to enlarge)
Terra – Chili Colorado with House Made Chips & Cashew Cheese, featuring Gardein Beefless Tips
New Dish: This is a new dish at the new Terra marketplace serving Vegan cuisine. Here the chef is cooking Gardein Beefless Tips for the "Chili" style dish. It was a good hearty dish that I enjoyed eating and seasoned well overall. I'm looking forward to trying other Vegan dishes at Terra like the Trick'n Chick'n Curry with Basmati Rice featuring Gardein Chick'n Breast.
(click image to enlarge)
This is a photo with Executive Chef Epcot Food & Beverage, Jens Dahlmann, who is involved in the year-round preparations for the Epcot International Food & Wine Festival. He loves photography and taking food photos too!
I chatted with Chef Jens about a few new things for the festival this year. From new dishes to revamped ones, there's always a lot of work going on. He also explained the process of sourcing products a year in advanced, such as the pork used in the Florida Local Arepa with Pork Rillettes. It's a process that takes lots of careful planning and working with the local farm ahead of time to be able to supply the amount of pork needed for the festival's duration. Chef Jens really is passionate about ingredients and sourcing the best products for the festival.
One thing that Chef Jens has been trying to get for the festival in the past and is new this year, are the brown paper plates/boats to be more eco-friendly. With the length of this Food & Wine Festival, it's great that they are trying to be more environmentally friendly. Now if Disney could just get some recycling bins for plastic cups, spoons, and forks for the festival, that would be awesome.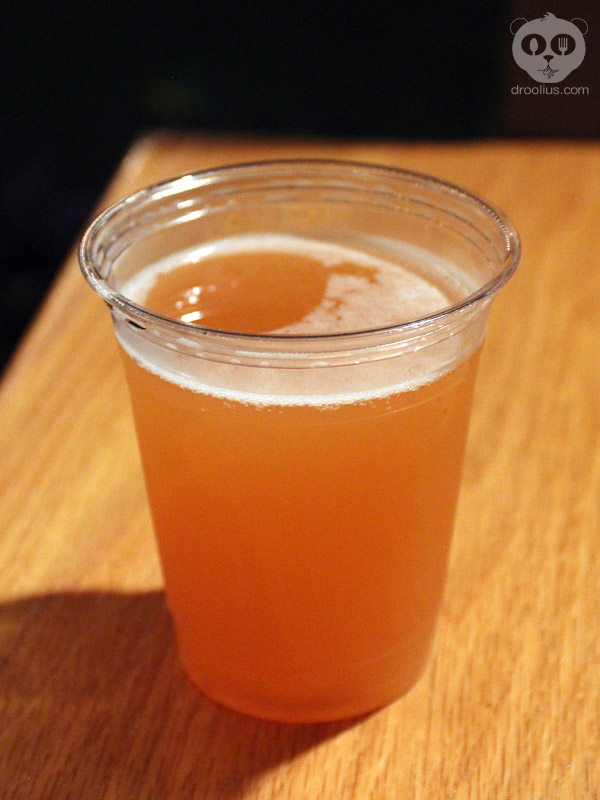 (click image to enlarge)
Brewer's Collection – Schöfferhofer Grapefruit Beer
Continuing on with the festival, we grabbed this Schöfferhofer Grapefruit beer, which we sampled earlier in the day with fellow food blogger, Suzanne of Kokocooks. After my food partner OD and I both tried it, we knew had to have one before the end of the day. It tastes like a light grapefruit soda, but one that will surely add to the beer buzz. Crisp and refreshing for this hot festival day.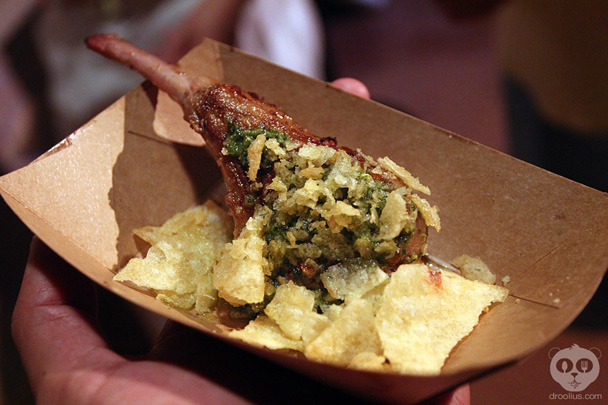 (click image to enlarge)
Australia – Grilled Lamb Chop with Mint Pesto and Potato Crunchies
New Twist: The lamb chop this year has so many flavors and textures, it definitely has been kicked up a notch from past years. The lamb was grilled to about medium in temperature, so it was juicy with a plump texture. The mint pesto added a punch of flavor and the potato crunchies (salt and vinegar potato chips) added a good textural crunch. The combinations of toppings basically balanced out the gaminess of the meat, leaving the lamb with a more subtle flavor.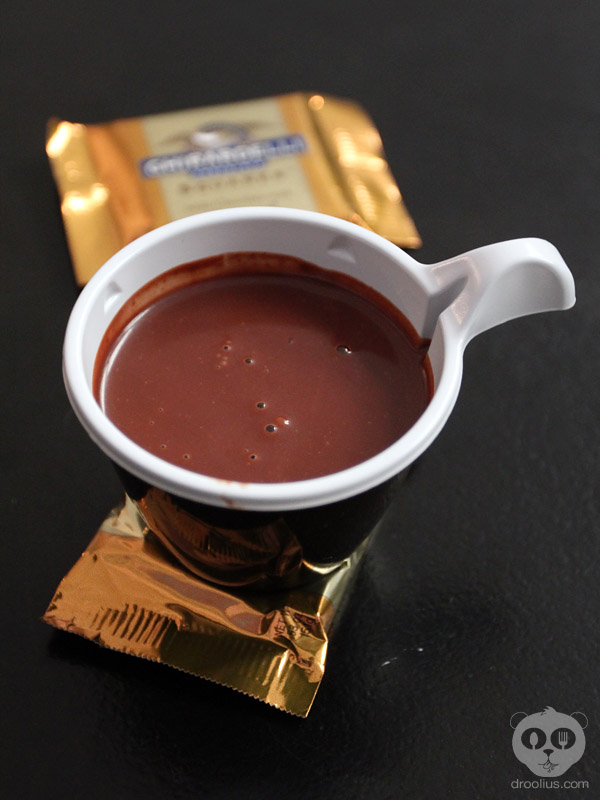 (click image to enlarge)
Ghirardelli – Gourmet Drinking Chocolate
If you are a fan of chocolate, stop by the Ghirardelli chocolate experience "From Bean to the Bar" located inside of the Festival Center. Guests experience the "sweet sights and smells of the famous flavor and reveals the journey from cocoa beans to the chocolate bar." For $2.75 you can sip on a Gourmet Drinking Chocolate, a sample cup of warm drinkable chocolate and it's not hot chocolate. It's basically thick rich melted chocolate that you can drink, it goes down slowly.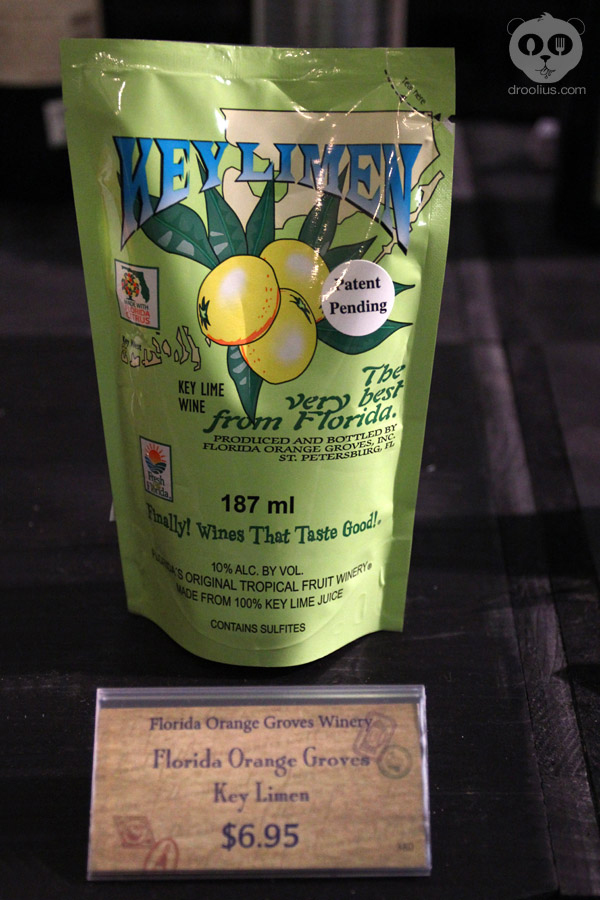 (click image to enlarge)
Florida Orange Grove Key Limen
Also in the Festival center, you can buy wines that are featured in the food and wine festival. From the Florida Local marketplace, a pouch (not bottle) of Florida Orange Grove Key Limen is available for purchase. Think of a Capri Sun drink pouch, but filled with wine, and for adults. Who needs a bottle when you can "tear here" and pour your wine.
(click image to enlarge)
Every year, a cookbook is produced for the Epcot International Food & Wine Festival. I've heard they get fancier every year and make a good souvenir. I'm sure it could be a great present for those who are fans of the yearly food & wine festival or to those who can't make it.
If you enjoy the Canadian Cheddar Cheese soup, check out my recipe: Doolius' Canadian Cheddar Cheese Soup Recipe
So that's it (so far) for the new dishes and twists on old favorites that I've tried for this year's Epcot Food and Wine festival. I plan to go back again to try more new dishes, along with more wine and beer. The festival runs until November 12, 2012 so there is about a month left from today to explore it for yourself.
How about you guys? Any new favorites for new dishes, twists on dishes, wines, or beers? Leave me a comment below…

Words and photos by Julius Mayo Jr.
Content and photos © Droolius.com 2012

More Epcot Food & Wine Festival posts:
Epcot Food & Wine Festival – 2012 Intro & Droolius' Top 10 Food of 2011
Epcot Food & Wine Festival – 2011 Intro & Droolius' Top 10 Food of 2010
Epcot Food & Wine Festival 2010 – Droolius Highlights
Epcot Food & Wine Festival – 2010 Intro & Droolius' Top 10 Food of 2009
Food & Wine festival – A continuation of 2009 Food, Wine & Beer