Each year on January 14, Americans celebrate National Hot Pastrami Sandwich Day. In New York City, you would probably celebrate by getting a Hot Pastrami Sandwich at one of NYC's famous delis, such as Katz's Delicatessen (my favorite in NYC). If you're in Orlando, FL you would go to Southern Moon and try their version of a hot pastrami sandwich: the new Rachel Sandwich featuring their house made Pastrami served on house made Rye bread. Yes, they make their own Pastrami and bake their own Rye bread, and its good. The Rachel Sandwich is part of their updated menu at Southern Moon, while still keeping their barbecue classics, and adding a few more items to round out their menu.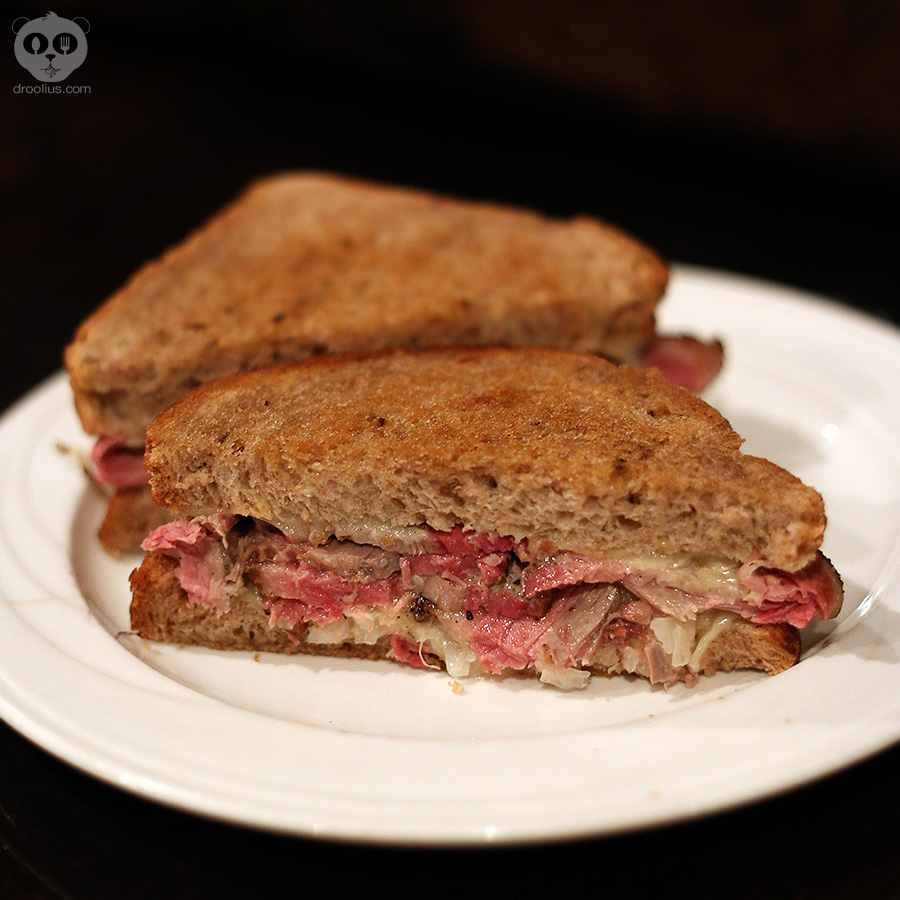 (click image to enlarge)
Rachel Sandwich – house made Pastrami, house made sauerkraut, thousand island dressing made with local honey, Amish Swiss Cheese, grilled on house made cocoa and caraway Rye bread
The Rachel Sandwich, according to Wikipedia, "is a variation on the standard Reuben sandwich, substituting pastrami for the corned beef, and coleslaw for the sauerkraut…" This can have variations with different sauces or keeping the sauerkraut in the sandwich. While I do enjoy cole slaw on Rachel Sandwiches, I do appreciate the house made sauerkraut in this sandwich. What really impressed me is that the house made cocoa and caraway Rye bread really holds up to the juicy hot pastrami and sauerkraut, not falling apart after my mini photo shoot. A good flavor combination all around, making it a sandwich worth traveling for at this destination location in Orlando.
It's great to see a restaurant in Central Florida serving pastrami made from scratch, of good quality, and tastes good. We don't have to travel to NYC to celebrate properly anymore. Happy National Hot Pastrami Sandwich Day!
Southern Moon
3000 Curry Ford Rd
Orlando, Florida 32806
www.southernmoonsmokehouse.com
Twitter @SouthernMoonFL
Instagram @SouthernMoonFL

How do you celebrate National Hot Pastrami Sandwich Day? Leave me a comment below on your favorite way to celebrate or where your favorite hot pastrami sandwich is at…

Words and photos by Julius Mayo Jr.
Content and photos © Droolius.com 2015