The Tasting Room in Winter Garden, FL is known for it's menu of tasting plates, wines, and cocktails. What may not be as well known, but definitely should be, is that they serve an off-the-menu Chef's Burger at a special time. How did I find out about this burger special? I went to The Chef's Table for my birthday last year and our server told us about the Chef's Burger offered at The Tasting Room. It has almost taken me a year to get back here, but I finally made it on a Sunday afternoon and it is definitely a burger to try in Central Florida.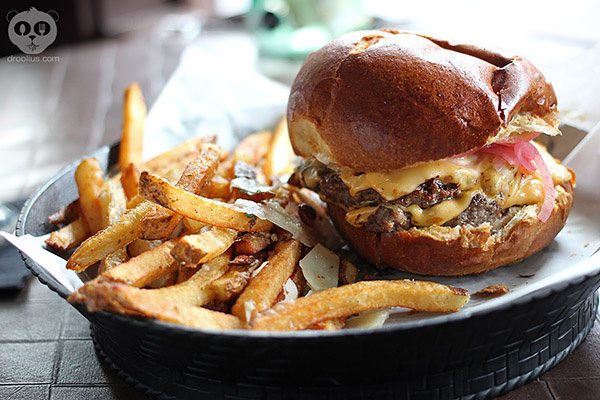 (click image to enlarge)
Chef's Burger served with duck fat fries
The Chef's Burger is offered during the evening after 9pm and all day on Sunday starting at 11:30 am until close. You will not see it on the menu, so you will just have to ask for it. This burger is served with hand cut, duck fat fries. The potatoes are sliced by hand, fried in duck fat, giving a deep and savory flavor. If you have never had duck fat fries, you are in for a treat.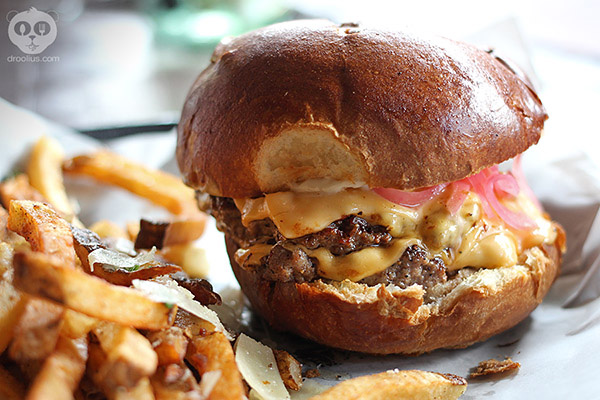 (click image to enlarge)
Chef's Burger – two patties made of Filet Mignon and Pork belly, cheese, pickled onions, house made Smoked Aioli, stone ground mustard.
What makes this burger so special? For starters, it's not your standard beef patty. This burger is a special blend of Filet Mignon AND pork belly. Steak and pork belly in a burger? Yes, please! That combination of meats creates rich flavors and oozes juiciness. Each patty is cooked through and is still super moist. The house-made smoked aioli adds even more flavor while the pickled onions and stone ground mustard balances it all out. If you love rich and savory flavors, then this is a burger worth seeking.
This unique Chef's Burger is something one should travel out to Winter Garden for. It's definitely not your typical burger that you will find anywhere else, but one you should try if you like to explore different burgers. The Tasting Room At The Chef's Table is located in downtown Winter Garden, west of Orlando. The Tasting Room serves a variety of tapas-style plates on their menu along with some classics from New Orleans. They have a popular happy hour and also serve brunch on Sundays (which I still need to check out). The 3 course pre-fixe menu at The Chef's Table (in the back of the Tasting Room) is a dinner I highly recommend.
The Tasting Room At The Chef's Table
99 W Plant St
Winter Garden, Florida 34787
www.chefstableattheedgewater.com
Facebook Page

Words and photos by Julius Mayo Jr.
Content and photos © Droolius.com 2014